Splendid Productions Antigone Workshop.
Drama is a wonderfully creative subject and allows pupils the opportunity to take part in some exciting workshops. Here, Ms Brown, Head of Drama, talks about the Splendid Productions workshop on Antigone, one of the texts studied.
'On Saturday 27th January, Splendid Productions theatre company director, Kerry Frampton, delivered a workshop on Jean Anouilh's Antigone to Upper V GCSE and Lower VI A Level Drama students. Splendid is known for create challenging, vibrant theatre for young people, and they provide expert training in all areas of drama from practitioner theory to presentation skills.
Splendid Productions are endorsed by exam boards, including AQA and OCR, who promote them as exemplary practitioners in practice. We deliver the OCR specifications currently at St Augustine's Priory.
The workshop focused on providing our students with concrete and creative ways to get inside the play text, in readiness for performance and written examination. Practitioners covered included Max Stafford-Clark, Stanislavski, Grotowski, Brecht, Laban and Edward Gordon Craig.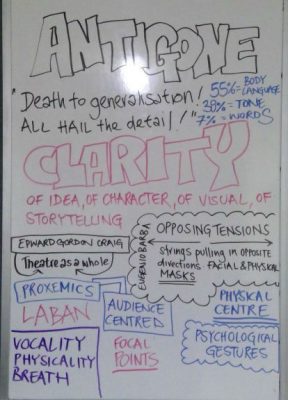 Taken from both a directorial and acting standpoint, the workshop provided a fantastic overview of the play and how the individual might communicate the themes and techniques within it. It inspired students with rehearsal ideas exploring characterisation and themes and encouraged the students to consider how they could employ movement and voice within the production and how as an actor they can control pace, use the space and understand the language and syntax of the play.
Students came away with more defined characters and more specific responses to the text, making their performances and directorial visions more compelling to an audience. It was a thoroughly engaging and a fantastic industry-standard experience for the students. We will be booking Kerry again!'
Categories:
Senior
Sixth Form
Whole School