An exciting time.
This term has seen a hive of activity as Mrs Savic, our Registrar and Marketing Manager, coordinated our Selection Day in January and the assessments for the variety of scholarships we offer at St Augustine's Priory. Here she tells us of the process as we select new Augustinians to join us in September.
'Last week saw thirty-five hopefuls sitting scholarship assessments and interviews over the course of four days. Nineteen internal and external candidates were invited for Academic and Veritas Scholarship interviews, based on exceptional academic performance. The candidates who applied for Art, Drama, Music and Sports scholarships have impressed the Heads of Department and have made the decision making process particularly challenging this year.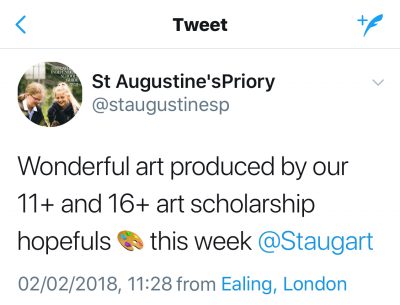 It is heartening to see 10 and 11 year old girls coming in with their posters, practising their monologues and holding on to their musical instruments and checking the musical scores they will play from with such maturity. The sports scholarship candidates were caught up in the rain and then a fire alarm, but they took it all in their stride, and did not seem unnerved at all! All the candidates were a little nervous as they came into Reception to sign in but yet clearly ready for the challenge of a scholarship assessment.
We encourage all the candidates to enjoy the assessment and to focus on what they know and not to worry about what they don't know. All the girls who have been assessed and interviewed this week possess many talents and it was a pleasure to be part of their scholarship process.
All parents will be notified this week, with the letters posted out on Thursday 8th February.'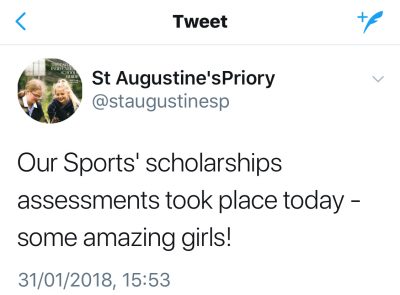 Categories:
Junior
Senior
Sixth Form
Whole School