Finding out about Finance.
Mrs Macallister accompanied eighteen Business Studies, Economics, Government and Politics and History students from Priory 6 to the Bank of England Museum on Tuesday 30th January.
Mrs Macallister continues: 'The aim of the museum is to provide an insight into the Bank of England's role in maintaining monetary and financial stability. There are a variety of exhibits in the museum which cover both the role and the history of the Bank, its buildings, and the people who have shaped it since its inception in 1694.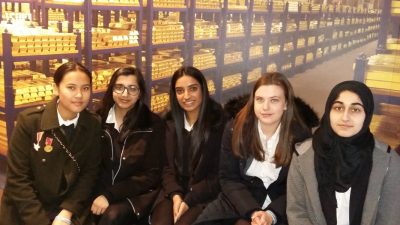 Inside the vault
On the trip the students learnt about how inflation and interest rates are linked, the importance of the Bank's role in monitoring other banks and financial institutions plus information on all the security features on bank notes. Students particularly enjoyed the safe cracking activity and seeing if they could lift the gold bar. The fact that the Bank current stores approximately 400,000 gold bars worth approximately £380,000 each was also a point of great interest. As part of our visit, we were given a presentation by one of the museum's educators who provided us with more insight into the workings of the Bank.
Picking up a gold bar
After the Bank of England visit, a number of the students in Lower VI who study Sociology and Government and Politics organised their own visit to Central Criminal Court (the "Old Bailey").'
Siobhan Kingsland, Niran Sahota and Haranya Yogananthan take up the story…
'We decided to go to the Old Bailey because we wanted to expand our wider knowledge of how the UK's justice system works. In particular, those of us taking Sociology are about to start a topic on criminology – the scientific study of crime and criminals. Most of us went to see the trial about an 80 year old woman who was killed at her allotment. We discovered quite quickly the level of detail and complexity that is involved in a criminal trial; for example, what seemed to us at the time to be quite disjointed arguments were almost certainly the result of evidence that had previously been presented at the trial. We were surprised by the demeanour of the man charged with the murder – he spoke matter-of-factly and at the beginning we didn't even realise he was the one on trial! As a result of the visit we have been investigating the trial further as it is being widely reported in the news media; we have also emailed staff the Old Bailey who provided us with further information. Overall we found it fascinating but also have spent some time reflecting on the nature of the society we live in.'
Categories:
Sixth Form
Whole School