Pinocchio: GCSE Review.
'On a quest to be truly alive, Pinocchio leaves Geppetto's workshop with Jiminy Cricket in tow. Their electrifying adventure takes them from alpine forests to Pleasure Island to the bottom of the ocean.' This description of their production of Pinocchio on the National Theatre website summarises the plot of Pinocchio, the story of the little wooden boy brought to life by the Disney animation and the subject of an evaluation which Lower V Drama students will write for their GCSE.
Ms Brown, Head of Drama, reports on the recent visit of the Lower V GCSE Drama students to the National Theatre to undertake their research for their project:
'On Thursday 11th January Lower V GCSE Drama students went to see Dennis Kelly's version of Pinocchio at the National Theatre. The production was a visual delight. Set designer, Bob Crowley, created a charming storybook world with over-sized toyshop and puppets and colourful fairground mise-en-scene. There were hints of the original Italian context with white gabled houses and Commedia dell'Arte Harlequin patterns and masks, which lent the production both a charm and a sense of the macabre.
The Blue Fairy was particularly enchanting, as she would enter as a floating Will of the Wisp flame and magically appear in full scale on stage. A piece of technical genius from John Tiffany, director of Harry Potter and the Cursed Child.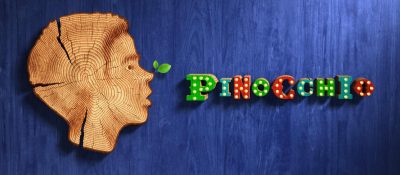 Disney gave the company access to the music and songs from the film, and the family favourites had the audience humming the tunes after the show. "Give a little whistle" was such a catchy number the students are still singing it in class!
Although set in a bygone era, the themes of this morality tale, such as man's quest for wisdom and transformation as a process of illumination still resonate. Sadly, the impact of poverty on children, another theme of the play, is also still relevant to modern audiences.
Audrey Brisson, who played Jiminy Cricket, was utterly charming as Pinocchio's comic conscience. Some laughed at the character's neurosis about germs and gluten, which was light relief set against Gepetto's anguish at losing his 'son'.'
Zayna Ahmad, Lower VA commented, "In my opinion, the director, John Tiffany, did a wonderful job of bringing this fairy tale to life with the huge puppet heads and the magical aspects of the Blue Fairy. As an audience member, I felt like a part of the fantasy world that the play effectively created."
Mia Davies, Lower V Alpha, added, "It was a brilliant magical retelling of the Disney classic and a fabulously imaginative production."
Ms Brown concludes, 'This was an interesting interpretation of Pinocchio and visually exciting, but could be quite frightening for very young children more used to the Disney spin on the story.'
Categories:
Senior
Whole School