Poetry Matters
In November we wrote about the by Mr Elder's, English Department, forthcoming collection of poetry, 'Being Present'. This is now hot off the press and published by The Black Light Engine Room Press. Comments have included, 'Funny and true' from one reader and 'Brilliant' from another!
We advise you to get a copy, because following the official launch of 'Being Present', the first print run may soon be sold out. The book was officially launched at The Poetry Café in Covent Garden on 12th January. Along with three other poets from the publisher The Black Light Engine Room Press, Mr Elder read to a packed house – it really was standing room only.
Mr Elder says – "It was great to be back at The Poetry Café, I haven't read there since the renovation work done by The Poetry Society and thankfully it still retains a particular feeling that adds to the frisson of the place. The reading was good fun – people laughed in the right places and the atmosphere was very supportive. I was very grateful to a number of colleagues, past and present, who came and cheered me on. There was even a former St Augustine's Priory English student in attendance, along with a lot of people I didn't know who'd come for a good night out."
'Being Present' has been described by readers as 'Humorous and contemporary with an underlying angst', also 'Funny and true' and one reader wrote online 'I think it's brilliant'.
Indeed, Mr Elder says he has been pleased with the response to the poems; "I'm very happy that people have found something to respond to in the poems – people seem to like the Colleagues section in particular. I thought I'd get a few pointed comments about the way I explore female friendship in some poems, but people have been very positive which is nice. The poems are very accessible, often amusing, but equally they carry a bit of weight because, I hope, the observations are authentic.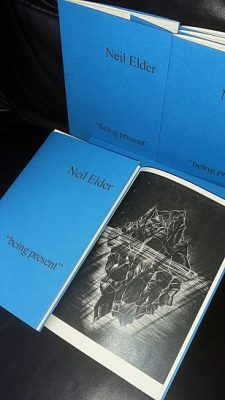 Mr Elder's work will next appear when Please Hear What I'm Not Saying, an anthology being sold to raise money for the charity MIND and which will be published in early February. Then we hold our breath until his award-winning debut The Space Between Us is published later this year.
To purchase a copy of Being Present direct from Mr Elder please email him at school – you may even get one of the much sought after badges that have helped promote the book!
For more details see https://neilelderpoetry.wordpress.com/
Categories:
Junior
Nursery
Prep
Senior
Sixth Form
Whole School