'The Suppliant Women'
The Classical world, far from being redundant, has much to teach us in terms of culture, history, language and, of course, through its literature. At St Augustine's Priory, we are pleased to offer Latin, Greek and Classical Civilisation. 'The Suppliant Women', the tragedy by ancient Greek playwright Aeschylus, communicates the dilemmas facing so many people today. Lower VI pupil, Ljiljana Krneta, reports on the recent visit of Upper IV to Lower VI Classics students to see a production of 'The Suppliant Women' at the Young Vic theatre:
'On 22nd November we witnessed a breathtaking performance of Aeschylus' 'The Suppliant Women'. The play was performed by a chorus of 50 women who were able to amaze and tantalise us with their ability to coordinate and tell their story in such a united and synchronised way. The play was not only visually spectacular but it also evoked a sense of catharsis for the audience as we pitied the women who fled Argos seeking refuge from forced marriage with their Egyptian cousins.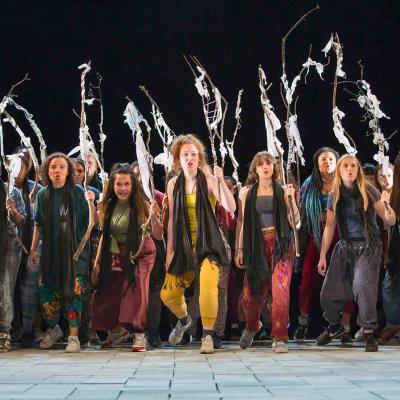 The play is very relevant to today's society despite being an ancient Greek tragedy. In today's society there are many people forced to leave their homes and become refugees in order to protect what should be their basic human rights, therefore, in the play when the women say, "If war-battered refugees deserve protection, don't we women?" it settles amongst the audience and makes us consider the responsibility we have to help those refugees suffering. Overall, watching 'The Suppliant Women' was an enjoyable and humbling experience.'
The Young Vic website goes on to say:
"IF WE HELP, WE INVITE TROUBLE. IF WE DON'T, WE BRING SHAME."
'Fifty women leave everything behind to board a boat in North Africa and flee across the Mediterranean. They are escaping forced marriage, hoping for protection and assistance, seeking asylum in Greece.
Written 2,500 years ago, one of the world's oldest plays speaks to us through the ages with startling resonance for our troubled times.
Featuring a chorus of local women from London, this is part play, part ritual. Director Ramin Gray unearths an electric connection to the deepest and most mysterious ideas of humanity: who are we, where do we belong – and if all goes wrong – who will take us in?'
Categories:
Senior
Sixth Form
Whole School