Poetry Live! Simon Powell Poetry Prize
Simon Powell, the founder of Poetry Live, was a champion of new poetry, organising events for students around the country stimulating enjoyment of and participation in, poetry. Before he died in 2009, he started a poetry competition for students attending Poetry Live. The competition now carries on in his memory.
The Poetry Live! Website says, 'It was Simon's passion and energy that drove Poetry Live! to make great poetry accessible to hundreds of thousands of students over the years. He was always a champion of new poetry, which is why in 2009 he started the Poetry Live Competition. It has been renamed in his memory and we now award the Simon Powell Poetry Prize each year to ten winners.'
This year, however, the website goes on to remark, 'The standard this year was so high that our judges have chosen twelve winners'.
One of these winners is Lower VI pupil, Alekia Gill, who here tells us of her journey of discovery in writing poetry:
'In December 2016, my year went to see Poetry Live. This involved a lot of sitting quietly and listening to poets read their own poems to us, telling us what inspired them and analysing certain lines in preparation for the dreaded exams in May. During the show they mentioned the Simon Powell Poetry Prize and this caught my attention. I listened to the past winners recite their poems and talk about how they never thought they'd win and I considered entering, even though I'd never really written poetry before. So I went home, and for the next few months, in between frantic revision, I would sit and attempt to write a poem. I managed to churn out four poems before deciding on one that I posted in only a few days before the deadline, which was in April of this year.
It was in the half term break during GCSEs that I received the email that said that I had been chosen as one of the 12 winners of the competition. Part of the prize was a workshop in July with some of the poets we had been studying- Daljit Nagra and Imtiaz Dharker. I was surprised and overjoyed that I had been chosen and probably reread the email about five times before the news sunk in.
Daljit Nagra
On 15th July I travelled to the Barbican for the poetry workshop that was offered as a prize for winning. The workshop was held in Imtiaz Dharker's apartment and it was here that I met eight of the other winners. We quickly got to know each other over orange juice and cake before Daljit Nagra arrived, at which point we talked about our favourite poets, how we started writing, our inspirations and plans for the future. After a delicious lunch prepared by Imtiaz Dharker, we took a walk around the Barbican, noting down the little things we noticed to put them in a poem later (and climbing a few trees while we were at it). Throughout the day we each wrote four pieces of poetry ranging from strings of consciousness to sapphic odes and recited them, along with our winning poems, to our parents at the end of the day. Funnily enough, most of us found it quite nerve-wracking to recite our hastily-written poems to a small group of parents, so the idea of reading our winning poetry to a theatre full of people our age at the next Poetry Live event seems quite impossible.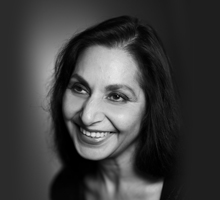 Imtiaz Dharker
Nevertheless, I am looking forward to being on that stage next year, and am extremely happy that I won the prize as it motivated me to keep writing, as well as allowing me to meet a group of poetry-loving friends.'
Alekia's prize-winning poem is printed below:
So You've Decided You're A Poet
You look at the page.
It's staring you down.
It knows your weaknesses.
It smells your fear.
Your paper of choice is blank, no lines.
Is that because your creativity can't be restrained?
Or was it the only paper you could find?
You look back at said paper,
which is now laughing at your struggle.
'How dare you mock me,' you think,
though you know the page is always right.
You've now unwillingly entered a staring contest
with a blank piece of paper.
The pen in your hand feels as if it is intruding
on an intimate moment
between you and the page.
At last a concept rushes into your head,
A single line of brilliant poetry
bursting through the dense nothingness
of your brain, it's as sharp as your pen
Which you use to write a word on the page,
making it no longer blank,
shunning it into stunned silence
as you write the words;
'Does paper have feelings?'
Categories:
Senior
Sixth Form
Whole School