A Half Term expedition
From Wednesday 25th to Saturday 28th October girls from throughout the Seniors took part in a visit to the ancient world by visiting Pompeii, destroyed by the eruption of Mount Vesuvius in 79 A.D. Accounts of the visit have been produced by several members of the group.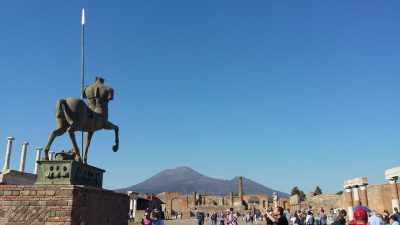 Naomi Nnatu, Form III, comments on the first day of the visit, 'On the first day we were up bright and early and left school at 3:00 am! We were all so excited and hardly tired despite being up in the early hours of the morning. On the coach we were all chatting and laughing ready for the journey ahead…
Once we got to the airport we checked in our bags. There was a little problem and so we were not able to buy breakfast as we didn't have enough time. We were okay and ate sweets (quite naughtily), but it was half term! Once we had gone through security we went straight to our gate and got into our seats for the plane. I was so excited, I had never been on a plane without my parents and so I was also a little bit nervous! The plane journey felt quite long considering it was only two hours but we spent our time chatting and taking pictures of the lovely views from the window. Then we touched down in Naples and went straight to a restaurant to get something to eat… Pizza and a drink! We were all ravenous and the food was delicious!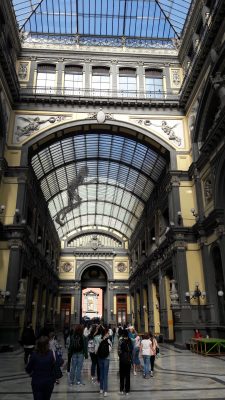 After our food we paid with our euros for the first time and set off to the National Archaeological Museum. We had so much fun looking at all the detailed mosaics and statues in the museum. I would definitely recommend wearing very comfortable shoes to travel as we were doing a lot of walking around!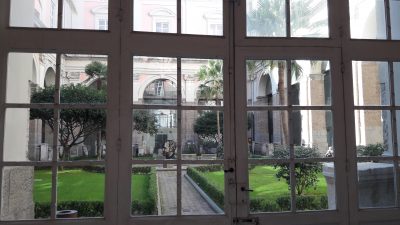 After playing games in an outside area at the museum, we ma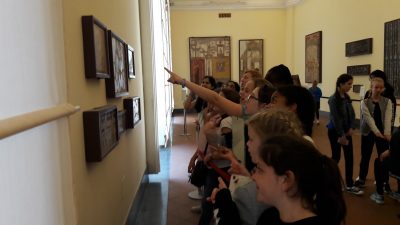 de our way to the hotel by coach and the usual excitement arose as we discussed which rooms we wanted to be in! Finally we arrived at our stop and there was a ten minute walk to the hotel and we saw an authentic Neapolitan town as we went. When we arrived at the hotel the teachers announced the room arrangements and we all set off to explore our own and each other's rooms. After we settled in we went downstairs for a lovely dinner and headed upstairs to bed… What a great first day!'
Katherine O'Neill, Form III, kept a diary of her visit:
'When I went to Pompeii with the school I had a great time. We had four teachers there to look after us, Dr Carleton, Miss Gandi, Mrs Griffiths and Mrs Sumpter. I saw the ruins of the city of Pompeii, Mount Vesuvius, Sorrento and the ruins of a small town called Herculaneum.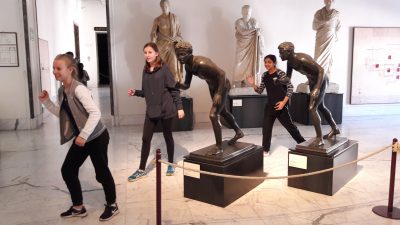 DAY 1: At 3.00am we left to go to Gatwick Airport in a coach and arrived at around 4.45am. On arrival in Italy at 10.00am we took our luggage onto the coach and went for lunch, then went to one of the most famous art galleries in Italy. Then we went to our hotel, the Hotel El Faro.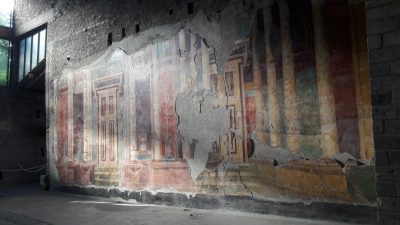 DAY 2: We woke up at 6.00am and after breakfast visited a Roman wife's villa. Soon after that we headed straight over to the ruined city of Pompeii where, after lunch, we saw various things, such as the amphitheatre, the forum, destroyed homes and shops. We had a blast going around Pompeii!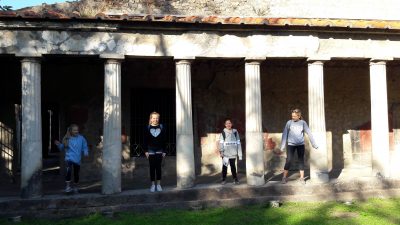 DAY 3: Today we went up Mount Vesuvius, I fell over one or twice. It took some time to get to the top but I managed to do it. Luckily the next thing was LUNCH! Then after that we visited Herculaneum, where we were allowed to go around by ourselves in groups of four or five. Then we went back to our hotel.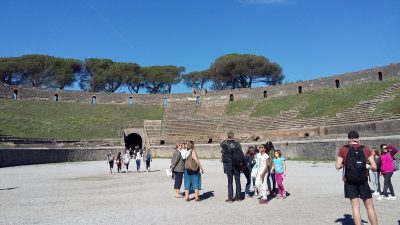 DAY 4: It was the final day in Italy and we woke up at 5.00am. First we went shopping in Sorrento where our hotel was. After 30 minutes of shopping in groups of threes and fours we visited two Roman buildings near the harbour. Then after lunch we took a glass bottom boat trip and saw underwater ruins. After this we had a visit to the ice cream shop. After an hour or more we headed over to the airport where we had dinner. Then we boarded the aeroplane and landed back at Gatwick and returned back to St Augustine's Priory where our journey had begun.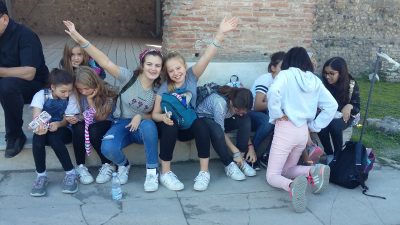 Overall I enjoyed the visit to Italy a lot and would definitely do it again because the trip helped me become more confident. I can't wait for the next journey I am going on!'
Here Claudia Lozinski, Form III, describes her experience: 'I really enjoyed the visit to Pompeii – it was fun, really interesting and I learnt a great deal. On the first day we went to a museum which was really beautiful with pink walls and palm trees outside. I saw a lot of sculptures of horses and important people who were part of the history of Pompeii. As you walked into the main hall of the museum there was a massive painting that was really stunning and it caught my eye as soon as I walked in.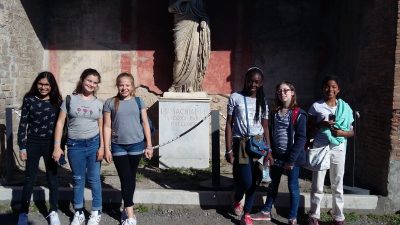 On Thursday we went to a beautiful villa in Pompeii which was really big and had a lot of rooms. After lunch we saw a massive amphitheatre – there was such a lot to see in Pompeii. As we walked around Pompeii through the narrow streets we came across a big open area which we were allowed to walk around. In the distance we could see Mount Vesuvius.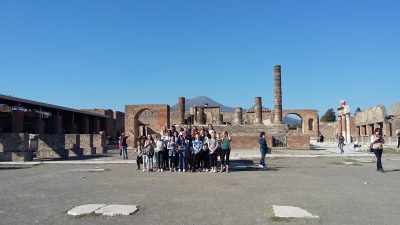 On Friday we went up Mount Vesuvius, which was my favourite part of the visit. Going up the mountain was not that hard but looking down on the vast landscape below you was very shocking and I must say it was a bit scary. I took many pictures of the crater at the top of the mountain.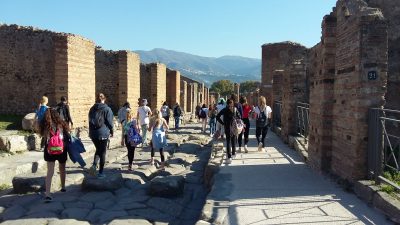 On Saturday we went to a little market where we all bought souvenirs and then we went to Herculaneum and Dr Carleton suggested the main places to visit on the map. In Herculaneum there was a really long cliff which shows you how much ash covered the city. Our group was the first group to see the dead bodies and it really put into perspective how scary it was for them as they did not know what was happening when the volcano erupted. There were some bodies who were sitting upright with their mouths wide open. They were all in the boathouse because they thought that the boats would come to save them but Vesuvius erupted so quickly that it was too late and the boats couldn't get to them anyway because there was a mini tsunami sending the ships further away. After that we went on a coastal walk to go shopping and I bought some lemons and lemon soap. I really enjoyed the visit to Pompeii; it was a great experience to visit Italy.'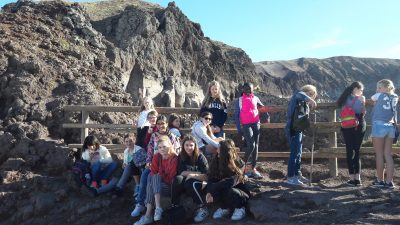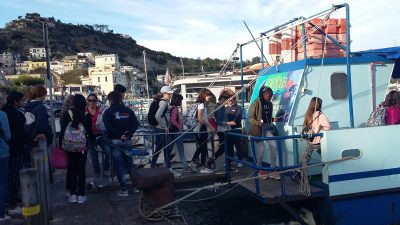 Finally, we hear from Simona Savic, Form III, who sums up the whole venture 'This was the best trip I have ever been on and not at any moment did I feel like I wanted to go home but perhaps this was because I was with so many of my friends. It was also nice to be with girls from other year groups and I really liked talking to the senior girls from Lower and Upper V. The hotel was great and we were fortunate to have had such lovely food during our time there, especially the pizza!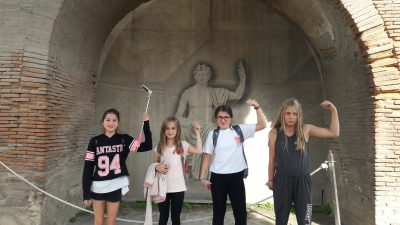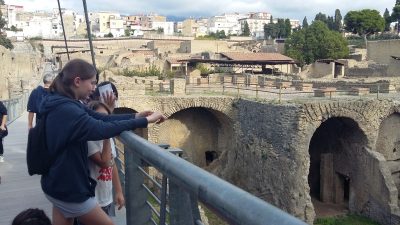 My favourite part of the visit was climbing Mount Vesuvius, it felt like such an achievement and I have never climbed a volcano before so it was a completely new experience too. We learnt so much about the history of the volcanic eruption in Pompeii. The museums were interesting too. I would recommend visiting this amazing place to anyone, it is one hundred percent worth it. I am so grateful to our four staff members who were willing to take us to this absolutely fascinating place during the half term holidays.'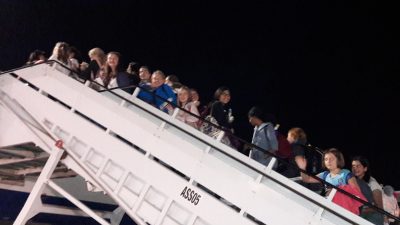 Categories:
Senior
Whole School