Mashan Marri and Isabella Ju of Lower VI write about their recent trip into central London.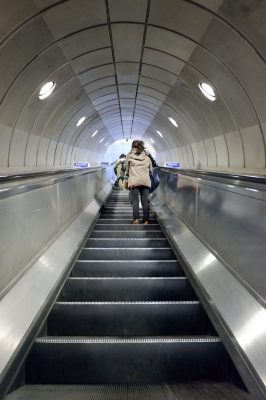 'On Wednesday 4th October the Upper V and Priory 6 Art and Photography students went to visit two galleries: The Photographer's Gallery and Jerwood Space – we were also lucky enough to spontaneously fit in another gallery visit to Blain|Southern.  At The Photographer's Gallery, we visited the Gregory Crewdson exhibit 'Cathedral of Pines', which is a collection of sinister yet picturesque photographs.  All of Crewdson's works are about the interactions between humans and the environment, many of the photographs had nude models, posed quite candidly, therefore leaving the impression that Crewdson was exposing 'behind-closed-door' secrets and portraying the vulnerability of humans with one another, as well as with nature, and the works put together told a story.  We all enjoyed the exhibition as it really made us question the meanings behind the photos.  At first glance the photographs seem harmless, however, when you look again you notice more and more about the photographs that you did not before.  There is an underlying ominous nature to the photos – that there may be something menacing happening that is not evident at first. This was definitely intentional as Crewdson uses light, location and angles to hide the disturbing sense lurking in the shadows.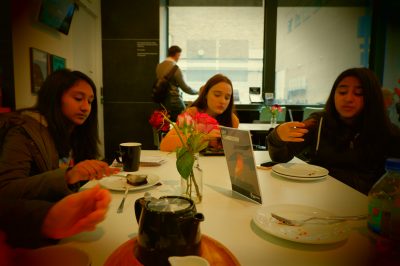 After the Crewdson Exhibition, the 'Food for Being Looked At' media wall and the gift shop, we left the gallery to have lunch at Hanover Square.  It was there that we realised that we had some extra time and we were able to squeeze in a visit to the Blain|Southern, just off Hanover Square.  Here we saw an exhibition called 'The Disasters of Everyday Life' by the Chapman brothers.  The space was large; despite it being one room, three of the walls were covered with small framed etchings, more than 70 on each wall, and each wall showed a different story in similar but distinctly varied styles. In the centre of the room were small columns upon which were vests either cast in bronze or painted to look like they had been cast in bronze. The detailing on the vests showed us that they were suicide bombing vests with grenades, sticks of dynamite and such, most likely pertaining to the attacks in recent months. After this, we briefly visited Alex Dordoy's 'The Moss is Dreaming' exhibit downstairs, which had abstract works, both paintings and 3D pieces. We were lucky we visited on 4th October as both the exhibits opened on that day.
Lastly, we visited the Jerwood Space gallery where we saw works submitted to the Jerwood Space Drawing Prize, created by emerging artists all across the country. There was a wide range of works displayed in the exhibition, from textiles and abstract 3D sculptures, to paintings, drawings and photographs. Some favourites were Gary Lawrence's 'Yellow Kalymnos with Fridge Magnet,' Fiona G Roberts', 'FAO Georg Baselitz', and Alice Blackstock's 'The Prodigal Son'. Altogether we had a great time visiting the galleries and would love to visit them again.'
Categories:
Senior
Sixth Form
Whole School