Lower IV Sports Scholars
Every week we see our pupils' enthusiasm for sport take hold as a variety of fixtures are held with schools throughout west and north London, both home and away. This week, in our series of articles on the St Augustine's Priory Sports Scholars, we focus on the two Sports Scholars in Lower IV, Coco Stephens and Amelie Vadon. As said in our previous article, we select two Sports Scholars each year, expecting commitment and passion for sport, that they be role models to their peers and younger girls and have a drive to take their sporting knowledge further, setting ambitious targets for themselves.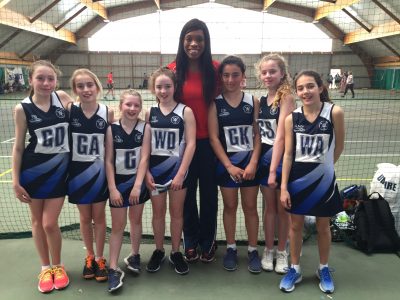 Mrs Gosling says of Millie Vadon, 'You will have seen a recent Priory Post article about Millie and her 2.5km outdoor swim to raise money for Cancer Research UK, Marie Curie and The Swimathon Foundation in memory of her friend and nanny, Bridie Healey, which to date has raised over £1,200.
Millie is an incredibly focused athlete and an excellent swimmer who applies herself to all activities. Her main sport outside school is swimming and she swims in competitions round London and the South East, including in county events. Millie has aspirations to take her swimming to the next level as a performer but also to pass on her knowledge as a swimming coach and lifeguard when she is older.
Her demanding swimming training schedule aids Millie's performance in cross country, where she is also a very accomplished runner, finishing fourth in the Ealing Mini Mile in September. Millie also enjoys Netball and Hockey and is a committed member of both school teams. She recently went on the Paris Sports Tour and will be joining the Holland Hockey Tour in the spring of next year. Millie always endeavours to perform to the best of her ability and always brings a smile to her team mates' faces.'
Millie says, 'I was so pleased to be made a Sports Scholar when I joined the school in Form III. In school I love doing all the sports that are on offer like netball, hockey and running club in winter and in the summer I take part in rounders, cricket, tennis and athletics. I basically try and do as much as I can. I try and go to every practice to give myself the best chance of being picked for all the school teams.
Outside school my main sport is swimming but I also do water polo and dance. I have to do a lot of training for swimming. We train six times a week, three of those are early mornings when we need to be in the pool at 5.20am. I swim in competitions around London and the South East including in county events. I have also run for Ealing Schools.
In the future I want to carry on improving in all my sports, especially swimming and I also want to get involved in helping with coaching the Preps and Juniors at school. When I am 16 I would like to train to be a lifeguard and a swim coach so that I can help at my local swim club. In the near future I would like to work on my hockey skills which hopefully I can do on the hockey tour in Amsterdam. I loved the recent netball tour in Paris and learned lots!'
Mrs Gosling also highlights the accomplishments of our second Lower IV Sports Scholar, Coco Stephens, 'Coco is another highly committed athlete who participates in a range of sports within and outside of school. A previous holder of the Junior Sportswoman of the Year, Coco has ambitions of representing her county in Hockey. She is a committed member of Ealing Hockey Club, and participates in the High Performance training camps to develop her skills. Within school, Coco is a committed member of the hockey, netball and cheerleading squads and is a great leader both on and off the court having a positive attitude inspiring others. She also participates in trampolining and climbing outside of school. Coco loves the aspect of team sports and working together to achieve something special.'
Coco says, 'I am passionate about sport. I love being active and I enjoy as many of the sports clubs in school as possible, including Saturday sport. There is a lot on offer, which is brilliant. Outside school, I have chosen to focus mostly on hockey and enjoy twice weekly hockey training at Ealing Hockey and High Performance Hockey Training, which improve my skills, teamwork and give me valuable match experience. I am also participating in the Middlesex Hockey Trials, as I have an ambition to play for the county. This is my first attempt to get picked for the squad, and even if I don't get a place, the experience has been really worthwhile.
Over the summer I took part in the Ealing Hockey Summer Camp and benefited from the expert instruction of double Olympian, Dirkie Chamberlain. The Let's Play Netball courses are good too. My confidence is growing in netball. I really like the team spirit of team sports most, and have been pleased with the progress of our cheer-leading squad, Dynamite, recently. The school hockey players are already excited about the hockey tour to Holland next Easter, so I'm looking forward to that. I also enjoy trampolining, and am considering this for my solo sport if I opt for GCSE PE next year.'
In the next article we will look at Sports Scholars from further up the school.
Categories:
Senior
Whole School