Getting the Ealing Feeling
One of the main events that amplify the strong sense of community the Borough of Ealing residents feel is coming up this weekend – the Ealing Half Marathon. Social media is buzzing once again this year with messages of preparation, motivation and anticipation as we count down to the annual race – but unlike prior years, Ealing Half Marathon will be running two events this weekend; making its debut as a stand-alone event in only its fourth year as a race this weekend is the Ealing Mini Mile.
This Saturday 23rd September will see the Mini Mile's highest ever number of young runners, with 1600 runners participating in five age-specific races. Not only are we the supporting the (bigger and better) event this year as its sole sponsor, the school will have a physical presence at the race on Saturday to support the sixty St Augustine's Priory girls participating! Amongst those running will be Olivia Sparks of Form III who came first in the Nike Mile Run in Richmond last weekend, and our Running Club members who have been training with the Senior School Running Club in preparation for the Mini Mile.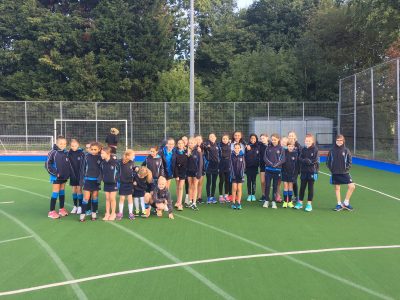 The Running Club this week
We're looking forward to what is sure to be a fun and atmospheric day and, as strong advocates for courage and game-changing, we feel immense pride for all of the young runners participating in the Mini Mile this weekend. Find our marquee in Lammas Park for refreshments and the St Augustine's Priory spirit! See you there!

Categories:
Junior
Prep
Senior
Whole School