Personal reflections
On Thursday 4th May 2017, Upper II performed 'Alice, the Musical' in front of the Junior school, and later on, in the evening, they performed to their parents. Melanie West, Upper IIA, describes her experience…
'My nerves were buzzing as the curtains opened. This was it. The show had begun. Two scenes later, it was time for me to perform. I felt so excited as I got ready for my scene. So I went out and started acting…
I loved practising and performing this show. I enjoyed watching other people preform and had great fun performing in front of everyone! My favourite scene was the Duchess' kitchen because there were lots of funny jokes. I was playing the role of the Mad Hatter and I love playing that role!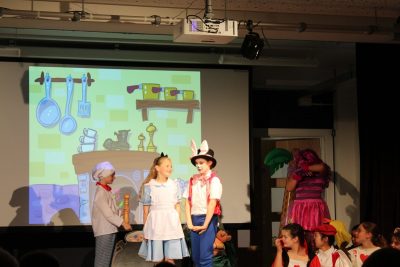 Unfortunately, the people playing the roles of Executioner and White Rabbit were ill, but Vinaya and Ariana saved the day at the last minute by learning the lines of those characters and performing on the big day!!
What's more, two days before the show, the newly-refurbished hall was finally completed and we were able to perform there!
If you ask me, this play couldn't have been as good as it was without the help of Miss Westley, Ms Brown, Ms Hagerty and all the support we had from Miss Barrett and everyone at school, including our classmates!
Overall, I really enjoyed this play as it was funny, full of exciting opportunities and, most importantly, fun!'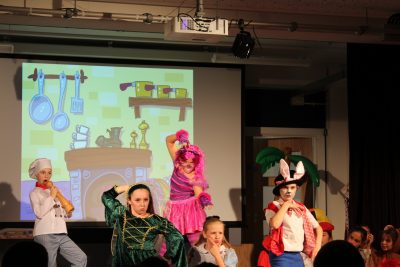 Kara Irvine, Upper IIA, contributes her thoughts:
'On 4th May Upper II went down the famous rabbit hole to Wonderland. It was a mix of Alices, Rabbits, Hatters, Duchesses, a smiling Cat and a very angry Queen! After weeks of rehearsals, tech rehearsals and, lastly, a dress rehearsal we were finally ready for the show.
The atmosphere in the changing room was electric. I felt like I was a professional actor getting ready for a show. Amongst the excitement there was also a little apprehension as two people were ill, but as the saying goes, the show must go on! Two girls filled in for them. I would like to thank Vinaya Shah who took the role of the last White Rabbit half an hour before the show and Arianna Buckland for filling in for the Executioner; she also only found out that day. They were amazing and the show wouldn't have run as smoothly as it did without them.
I would also like to thank Ms Brown and Ms Hagerty as they directed the whole play and made it unforgettable. Also Miss Westley helped us bring the songs to life. Overall I thoroughly enjoyed the play and I feel it was a great achievement for the whole of Upper II. It is a memory that will last with me forever.'
Categories:
Junior
Whole School