Grasshoppers Best All Round Player
Grasshoppers Netball Club is situated in Osterley, and is a member of the Kingston and District Netball League. Eisher Sangha, Lower VI, is a member of this well-established club and this year won the Grasshoppers Best All Round Player award. Here she recounts her experience of being a member:
'Initially, with a push from Ms Hales and Mrs Gosling I joined Grasshoppers Netball Club and have now been attending for two years. When I first joined I was a member of the U16 netball team then progressed on to their development programme and I now play for the seniors.
I enjoy attending training every Monday and playing matches on the weekend; the people I play with are all very friendly and supportive. Mrs Lindsay has been my coach throughout and has encouraged me to push myself further.
One of my last matches was the Cup Match which both Mrs Lindsay and Ms Hales attended. They were an incredible support and although I injured myself during play I carried on playing and thankfully we won the Cup!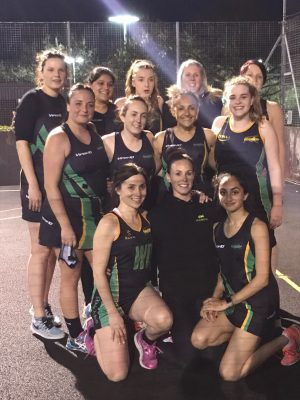 Eisher and her teammates and coach, Mrs Lindsay
Recently I attended the Grasshoppers Awards Ceremony and I won an award entitled the "Grasshoppers Netball Best All Round Player" for my team. It was an amazing achievement for me and I truly believe that I wouldn't have been able to achieve this without the amazing coaching and support provided by Mrs Lindsay, Ms Hales and Mrs Gosling.'
Mrs Gosling, Head of PE at St Augustine's Priory, said, 'Eisher is an outstanding sportswoman and we are very proud of her. As our 2016 – 2017 Netball Captain this is an incredible achievement.'
The pictures accompanying this article were taken at Eisher's recent Cup Match at which she twisted her ankle during the game. She was taken off court but, as Eisher says, 'I didn't want to let the team down so I came back on court and carried on playing. Thankfully we won the Cup!'
Categories:
Sixth Form
Whole School