Do you know what I would do now if I had my time again?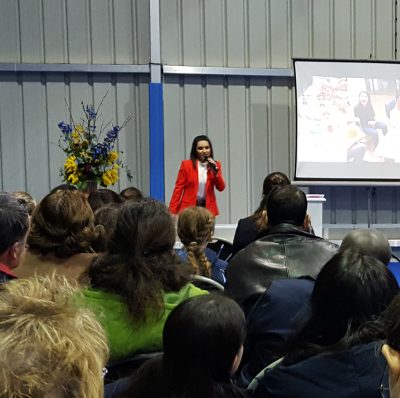 Our vision at St Augustine's Priory is to ensure that girls leave equipped with the full range of skills required for lifelong success. The biennial Careers Evening was opened this year to the whole senior school, from Form III through to Upper VI – you would not expect a 12 year old to have any inkling of what they might like to pursue as a career, but at an event like this even the youngest Senior school girls will get an idea of the possibilities available to them. Last night was particularly special not only because we hosted guests including Labour Party MP Rupa Huq and former Augustinian Christina Ohanian as speakers, but it marked the launch of the Dads4Daughters initiative. This new programme will work to galvanise the support of men who are by definition committed to women's empowerment – the fathers of girls – to change workplace culture for good.
Dr Rupa Huq talking to Sixth Formers
The evening began with the keynote speech from alumna Christina Ohanian, who attended St Augustine's Priory from Prep I to Upper VI. Christina reminisced about her time at the school, remembering how there were six Viglen computers in the IT room when she joined, a luxury that most other schools did not have at the time. She also spoke about being a 'woman in tech', saying that in meetings she always sits at the table and has her voice heard, never standing at the back of a room. Having started her career in software testing, Christina came to realise that her passion lay in coaching and mentoring, and is currently working as an Agile coach.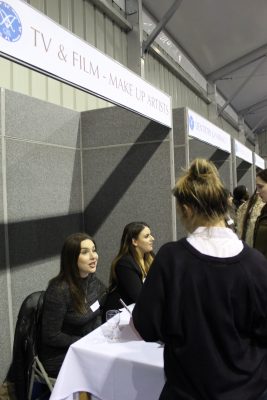 Rupa Huq, Labour MP for Ealing Central and Acton, then spoke with Mrs Raffray in introducing the Dads4Daughters initiative. Dr Huq regaled the girls and parents with stories of her childhood, and insisted that there are always other opportunities should you wish to pursue something different to what you do at the moment. She also reflected on the fact that we must always think about the influences which shaped us. Mrs Raffray addressed the parents, introducing Dads4Daughters. Launched a year ago at St Paul's Girls' School and inspired by the UN's HeForShe initiative, Dads4Daughters aims directly to enlist fathers in the achievement of full equality in the workplace for their daughters and overcome subconscious bias, which chimed with Christina's words about 'sitting at the table'.
The girls and parents were then free to roam the careers fair, where a wide variety of sectors were represented;
Banking and Financial Services
Building and Construction
Careers Advice and Placement Year in Industry
Data Science and Ecommerce Start-up
Dentistry and Pharmacy
Film and Documentary
Journalism
Law
Marketing and Events
Medicine
Research and Academia
Software and Information Technology
TV and film
TV and film – Make-up artists.
We were lucky enough to have other alumnae attend the event and represent St Augustine's Priory – Reem Ahmad, who finished the Sixth Form in 2008, is pursuing a career in Cancer Research, Francesca Fearis who left the school the following year is a Film, TV and Commerical Project Manager. Tara Delargy, doing her year in Industry, and Molly Manning-Walker, a cinematographer, also joined us.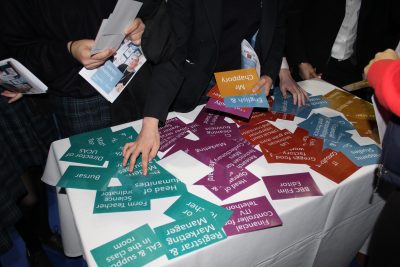 Playing 'Life before Learning'
We would like to extend our utmost gratitude to all of the speakers who volunteered their time to inspire our girls, as well as all the teachers who came and committed their time to the event, some of whose colourful career progressions were guessed in the game of 'Life before Learning, Trades before Teaching'. The way the girls interact with our teachers at events like this is a testament to the love of learning that teachers are instilling and their relentless pursuit of academic excellence. Careers Evening gives our girls the chance to meet people who have experienced leaving school, chasing dreams, persevering through hard times and excelling, and the important thing for them to see is that it is okay if they don't know what they want to be now, because they will always have the St Augustine's Priory community to support and guide them, even long after they have been a pupil here.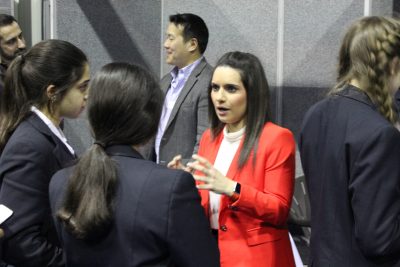 Categories:
Senior
Sixth Form
Whole School