'The Curious Incident of the Dog in the Night-Time'
Upper IV saw the production of 'The Curious Incident of the Dog in the Night-Time' recently and here Katie Fung, Upper IV Alpha, writes a review for Priory Post:
'On Thursday 17th November, Upper IV travelled to central London to experience Mark Haddon's 'The Curious Incident of the Dog in the Night-time' performed as a play in the Gielgud Theatre. Even though it was a late evening the play was definitely worth the trip as it captivated the audience and incorporated what we have been learning in Drama and Maths.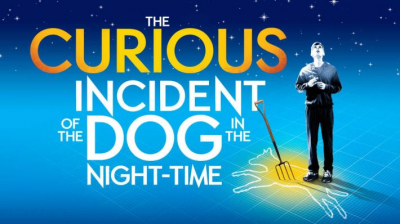 The play tells the story of Christopher, a fifteen year old boy who suffers from autism. He finds his neighbour's dog dead at seven minutes past midnight. It has been speared with a garden fork and Christopher comes under suspicion. Owing to the fact that he has an extraordinary brain, which is exceptional at maths but ill-equipped to interpret everyday life, he records each fact in a book he is writing to solve the mystery. Christopher has never ventured alone beyond the end of his road and detests being touched by anyone. However, his detective work, forbidden by his father, takes him on a frightening journey that upturns his world.
"It was great to see chorus and physical theatre being used live, because it really shows how what we've been learning can be applied to create atmosphere, tension and highlight characters." Amelia Phillips Upper IVA.
"The lighting of the play was amazing, the use of pixel-mapping technology to express Christopher's inner reality was unique and creative." Katie Fung Upper IV Alpha.
Overall, it's a great show, which has won many categories in the Olivier Awards. I encourage you to go and see it.
On behalf of all Upper IV, I would like to say a huge thank you to Ms Brown, for organising the trip and to Mr Pereira, Miss O'Brien and Miss Hales for accompanying us – I hope you enjoyed the show too.'
Categories:
Senior
Whole School