The Parents' Committee Seasonal Celebration
Friday 2nd December from 3.00 – 5.30pm sees the 2016 Parents' Committee Christmas Fair. As always, the Parents' Committee is preparing an event which will dazzle and delight! There will be many wonderful stalls for us all to enjoy and for this fair to be the success it always is, the committee is asking for your help with the following:
CALLING ALL PRE-LOVED TEDDIES …
The Parents' Committee is seeking pre-loved teddies for their Christmas Fair rehoming centre (aka the Teddy Tombola). If you have a teddy looking for love elsewhere, please hand it in to the Main Reception. Donations are being received now in time for Friday 2nd December as some teddies may require a little make-over in order to look their best!
CHRISTMAS FAIR GIFT STALL …
We are now accepting donations of Christmas gifts, novelties, decorations or crafts in good condition and suitable for all genders and all age ranges for our CHRISTMAS GIFT STALL. Please hand in any donations to the Main Reception. As ever, we rely on your generosity and support as without it our events would not be as successful!
Expect to see an empty hoopla cup wending its way to you before next week! We need these cups to be returned full with sweeties/chocolates or small novelties and decorated to look as festive as possible. The Snowman Hoopla stall is one of the stalwarts of our Christmas Fair and a favourite of many girls. Express your creative side with the curling ribbons ….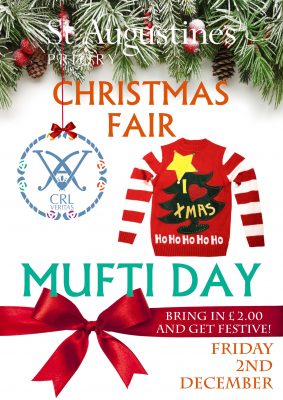 For those who have not attended the St Augustine's Priory Christmas Fair, it is an occasion to be savoured! A favourite with pupils and staff (and parents) this is a wonderful precursor to the Christmas holidays.
Categories:
Junior
Nursery
Prep
Senior
Sixth Form
Whole School