"To succeed, you have to believe in something with such passion that it becomes a reality" – (Dame Anita Roddick)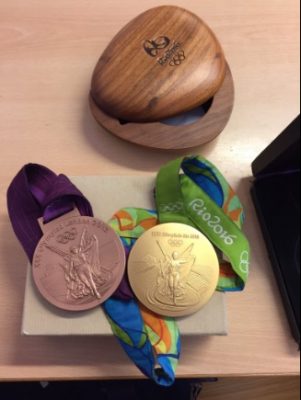 Monday 7th November began with an assembly on 'Resilience and Drive' from our guest for the morning, Hannah Macleod, Team GB Olympic 2016 Gold Medallist, Team GB Olympic 2012 Bronze Medallist and member of the England Hockey team. Hannah talked to the senior school about perseverance and hard work, her experience in the Rio Olympics this year, and the key lessons she has learnt on her career path. Whether you think you would like to be an Olympic athlete, a teacher or a vet, Hannah stressed the importance of the following:
To be bold with your ambitions,
To challenge yourself – her team wanted to create a difference and be the future – they didn't know that they were capable of competing at the Olympics, but they aimed high,
To be resilient and learn from things you don't at first succeed at – Hannah has been dropped and picked up by teams since she was 18 and has not allowed negative experiences to slow her drive or stop her achieving her ambitions,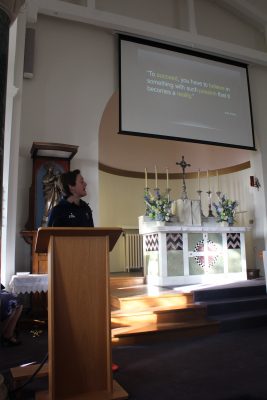 The inspiring and motivational assembly was followed by a 'Going for Gold: Gifted and Talented PE Session', which investigated what it takes to get to the top. It is not often that you are given a glimpse at the working week of an athlete, but the girls sat rapt in the scriptorium as Hannah talked them through her rigorous routine to a backdrop of her military-style timetable projected onto the wall. We learned that the Women's National Field Hockey Team works full time to excel at their sport, filling their weeks with practice on the pitch, conditioning sessions, fitness testing and individual performance reviews. The team even trained with the Royal Marines for three days, removing themselves from their comfort zone to make sure that the squad is constantly being challenged.
The team have a 'rest day' on Sundays, on which they still need to keep active but can choose what they would like to do, for example swimming or yoga. One of the girls asked whether Hannah ever cheats in her healthy eating habits on her rest day (please say yes, please say yes..), "No" (deflated sighs). It would be nice to assume that even Olympic standard athletes have the odd slice of pizza, but Hannah assured the girls that once you are in the habit of eating well you start to notice that breaking from that habit can make you feel run down. In Rio the athletes had so much access to free food, so it was important to make wise choices and stay disciplined. "Peanut butter – that's about as crazy as it gets" she said.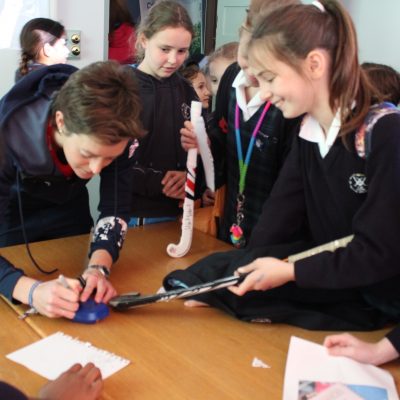 Lower VI had a session on Physiology and Psychology, and were educated on the need to assess your strengths and also on what you need to improve. "It is important in sport to have accountability, admit you made a mistake and say that you'll do it better next time" Hannah said. Everybody has good and bad days, and it is so important in sport that you ask your team mates to respond to your moods in a way that will help you, so that you can help each other to get back on track. Communication is key in sport – for Hannah, on her bad days, she needs her team mates to tell her to 'pull yourself together' so that she can realise the impression she is giving out and work to fix it. In a final tip for the girls Hannah stressed the importance of sleep, saying that it is essential when it comes to recovery, alertness and mood.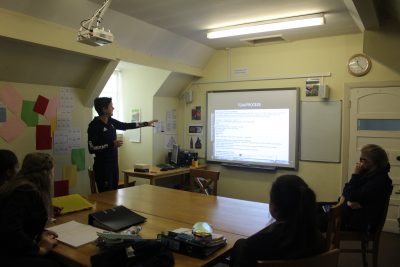 One girl asked innocently, "who is the best player on your team?" which Hannah diplomatically answered by explaining that everybody has their individual strengths – but that her teammate Sophie Bray has a particularly creative approach to the sport. Elise Mercer, Senior Sports Captain, asked how Hannah and her team afford to live when they spent all of their time training. The National Lottery funds them, the players are given a grant and they live together, "the thing you spend most of your money on is food" Hannah said – these are the sorts of sacrifices you make to pursue a career you are passionate about.
"The vision must be followed by the venture. It is not enough to stare up the steps – we must step up the stairs" – Vance Havner, Author.
Categories:
Junior
News Flash
Senior
Sixth Form
Whole School