'Sometimes you just have to be a little bit naughty!'
Lower IV's visit to 'Matilda The Musical' on Thursday 29th September was a theatre visit to remember. Here, Julia Belz and Lucy Phillips, Lower IVA, recount their evening to the stage musical based on the children's novel 'Matilda' by Roald Dahl.
"Firstly, we would like to thank the teachers who came with us: Mr Pereira, Mr Alejandro, Mrs Raffray and especially Miss Brown who took the time and effort for all of this to happen. Our trip was brilliant and we had a lot of fun. It was definitely a night to remember.
As soon as we arrived at the theatre we could not contain our excitement. Walking up the stairs leading to the upper circle were walls of inspiration. Many quotes from the show were hung on the walls such as Miss Wormwood's memorable, "Dinners don't microwave themselves!".
The musical was full of memorable songs; "When I grow up," sung by the children after experiencing the ups and downs of school. The children were thinking what their life would be like when they grew older and it truly captured the heart. Another was, "My mummy says I'm a miracle," which the children sang as they opened the play. This was also accompanied by some skillful dancing. A strong hint that you can be anything you want to be if you try!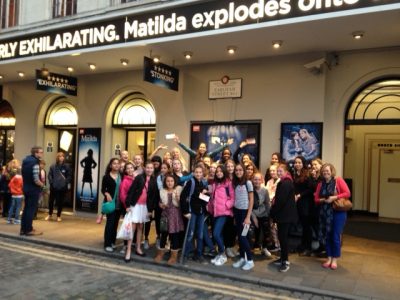 There are three versions of Matilda – the book, the movie and the play and they are all different from each other in their own ways. The play was put together very cleverly and the actors delivered their lines clearly, with emotion. Compared to the movie the storyline of the play was different to the original book. The main feature in the storyline that is different is the birth of Matilda instead of the adoption.
We think that three of the main themes were believing, courage and that sometimes the smallest things make the most difference. The play taught us many key morals, one of which is to stand up for what you think is right as we saw when Matilda stood up to Miss Trunchbull. Another was that you do not have to be rich to be kind, which was shown when we learnt that Miss Honey lived in a small shed. Most of all, 'Sometimes you just have to be a little bit naughty!'"
Categories:
Senior
Whole School