Huay Nam Yen School
"Some of the children and their families had escaped the military on the border of Burma and in the school there were around three orphans." – Lonika Manektalla
Every year our Priory 6 girls are given the opportunity to apply for a grant of up to £2,000 to go towards an academic or outreach programme of their choice, with a view to enable the girls to look outwards and beyond the prescriptions of the A Level curriculum. Lonika Manektalla and Anna Cunningham, who this term moved from Lower VI to Upper VI, applied for the scholarship last academic year to fund their journey to teach English at a school in Thailand. The application process required the girls to write a letter to the Headteacher accompanied by a detailed itinerary, before taking part in an interview including a presentation of their proposal. On 16th November 2015 Lonika and Anna received the good news that their scholarship had been granted.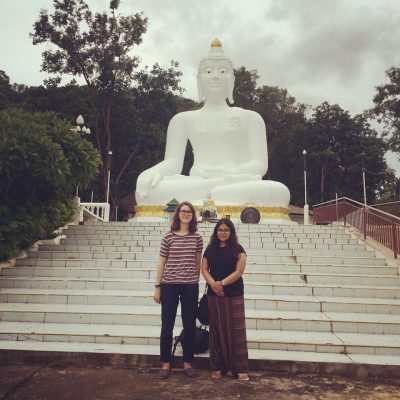 The girls travelled to Thaton, a small village in Northern Chiang Mai, where they were to teach at Huay Nam Yen School. From 17th – 31st July this year they stayed at the Maekok River Village Resort who run an Outdoor Education Centre. The Centre has connections with Huay Nam Yen School as well as 38 other schools within the area, and has done so since 2004. Lonika said, "The company also runs other aid work programmes, for example building programmes for local schools, but we opted to teach English".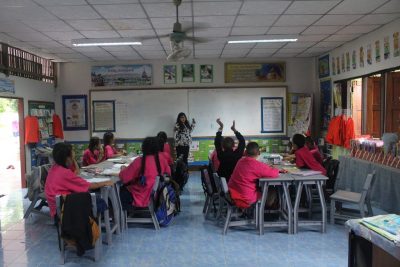 The school is run by the Thai government but a lack of funding means a shortage of teachers, especially English teachers. Lonika and Anna taught English to the children in Thaton for two weeks, and feel that the experience has increased their sense of independence, their confidence and their ability to communicate even through a language barrier.
Lonika said of their experience, "The children came from ethnic minority groups such as hill tribes and other ethnic groups from Burma, as well as Thai and Chinese. They all spoke their own language and had to learn Thai when they first came to the school. In our downtime we visited the local temples, one of which was the Wat Thaton Temple – Chedi Kaew, which has a large collection of different Buddhas from all of the countries in Asia. We also visited the Chiang Dao Hills where we saw the border between Thailand and Burma."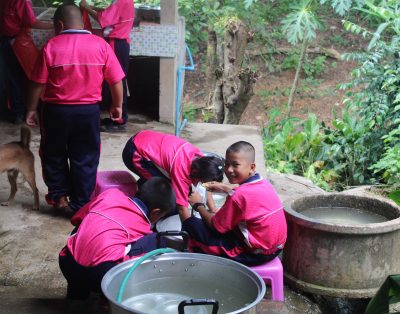 We are so glad that our girls bring these wonderful ideas to our school which they are really passionate about, and that we are able to give them an opportunity to expand their knowledge and acquire new experiences which contribute to the wider world. Please visit our Facebook page to watch the video made by Lonika and Anna of their journey.
https://www.facebook.com/profile.php?id=100009455406639&sk=videos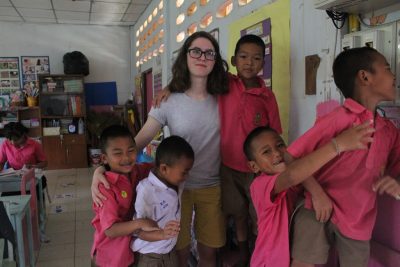 Categories:
Sixth Form
Whole School