Animals galore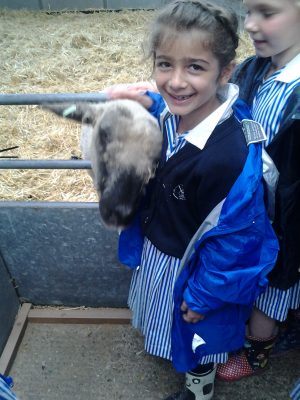 On Thursday 23rd June Preps I and II went on an expedition to Odds Farm Park in Wooburn Common. They had a wonderful time, meeting lots of animals and even attending a sheep race. Here are some of the accounts of the day from members of Prep II:
Audrey writes, 'First we went on the tractor rides. We saw a duck and donkeys and a family of cows and we saw a calf. We went to the sheep race. We fed the lambs and goats and had rabbit time. Then we had lunch. We fed the chickens and collected the eggs. We walked back to the coach and I fell asleep. Finally, we got to school and it was home time and we went home'.
Enya adds, 'First we went on a tractor ride. I saw the cattle, lambs and the British cows and goats. Next we watched the sheep race. 'Ewesain Bolt' was my favourite. Then we fed the lambs and the sheep and goats. And then it was time for rabbit time. We stroked the rabbits, they are so soft! And then we had lunch. The last thing we did was feeding the chickens and collecting their eggs. Finally, we walked to the coach and most of us fell fast asleep…Zzzzzzzzz.'
Sofia is next, 'First we went on a tractor ride. On the tractor ride we saw goats, lambs and donkeys. Next we watched a sheep race. Then we fed the animals. Finally, we fed the hens, we found eggs. We went back on the coach.'
Finally, Mieke tells the story of her day, 'First we went on a tractor ride. I saw a donkey and goats and cows. Next we saw a lambs' race then we fed the goats and lambs. Finally, we fed the chickens and then we collected eggs. Then we went on the coach, then we were at school.'
Thank you to Prep II for telling us the story of their exciting day when they met so many different animals.
Categories:
Prep
Whole School