A Journey Back in Time
Hampton Court Palace is where you can explore what life was like in the Tudor and Stuart courts. Situated on the banks of the River Thames this wonderful palace was the destination of a recent visit by Lower IV. Katie Fung, Lower IV Alpha, leads us through Lower IV's time travelling journey:
'On Tuesday 28th June 2016 Lower IV visited Hampton Court Palace, finishing our study of Tudor religion and the power of the monarchy.
In the morning we participated in a workshop entitled "Henry to Mary: a religious rollercoaster". We learnt why Henry VIII was painted in a specific posture and then toured the Great Hall, Haunted Gallery and many more areas of the palace.
"The workshop was a great way to summarise the changes during the English Reformation and it was interesting to discover how the changes shaped the layout of the palace," said Naomi Jeffries of Lower IVA.
We then enjoyed an hour for lunch, where we explored the grounds and galleries in groups. Some people visited the gift shop and, as it was sunny, ice-cream proved a popular dessert. After lunch we had another workshop entitled "(In) glorious Revolution". During this workshop we learnt how the power of the monarchy changed after the Civil War of 1642, the story of the 'Glorious Revolution' and what happened after.
Ljilja Vincic from Lower IVA said: "I really enjoyed learning about William III and Mary II and loved the recreation of their privy garden. The best fact I learnt is that William tried to rebuild Hampton Court in the image of Versailles but the people said 'no'. "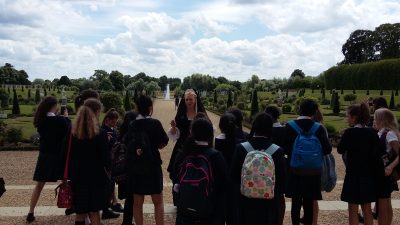 "Playing the part of William III in our recreation of the Glorious Revolution was an experience I'll never forget and then visiting his private apartments was amazing", commented Emilie Walsham of Lower IV Alpha.
Overall, it was an enriching and beautiful day out which everyone one enjoyed. Thank You to Mrs Lunn for organising the visit and all the teachers who accompanied us.'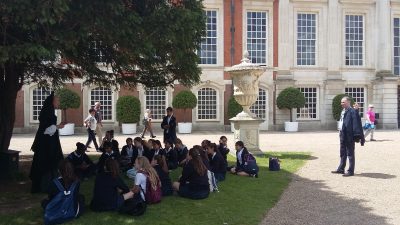 Categories:
Prep
Whole School