Technology: A World of Possibilities
On Tuesday 28th June the Lower VI Science students, along with Miss Hayden and Mr Barnes, gathered at the Royal Institution for a day of stimulating talks, panel discussion and activities for the event, "Technology: A World of Possibilities", an opportunity for the girls to see the many avenues available for exploration.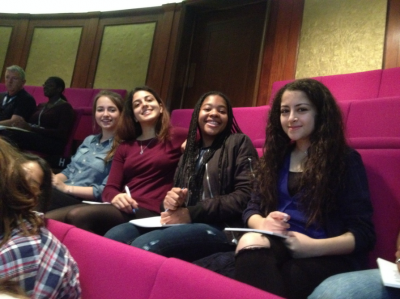 Our first talk of the day was from Abbie Hutty, who is a spacecreaft structure engineer. Abbie spoke about how a love of space motivated her to pursue an engineering degree followed by a job designing and building parts of satellites and parts of the Mars Rover that the European Space Agency are building. She spoke of the many different ways to be involved with engineering – there are apprenticeships now, along with the degree route and internship programmes.
Next we had Dan Zinkin from JP Morgan, speaking about how technology, especially computer programming and digital skills, will shape future business. He said that "coding is the language of the business of the the future," and that banks and other financial companies are always looking for graduates with STEM qualifications to work for them and help lead them into the future.
This was followed by Dr Sarah Wiseman who is an expert on human-computer interactions, who spoke on her work on the psychology of using computers and designing technology to fit how we as humans do things – from number input on machines in hospitals, to designing haptic technology for use with people with visual impairments.
Afterwards there was a panel discussion followed by lunch with a careers fair, when the students had the opportunity to talk to the people who had spoken in the morning session, and to representatives of different businesses in the technology and STEM sector.
The last talk of the day was from Catriona Campbell, the founder of EY Seren, an international design consultancy which works on "digital business transformation through a customer-centred approach to design." Catriona also works on human-computer interaction and spoke about how human behaviour affects how we design technology, but also how technology can affect human behaviour – a memorable example she gave was that when asked to turn on/off a light, people over 25 tend to use their index finger, while younger people tend to use their thumb, as they have grown up using tablets and smartphones which involve a lot of thumb use.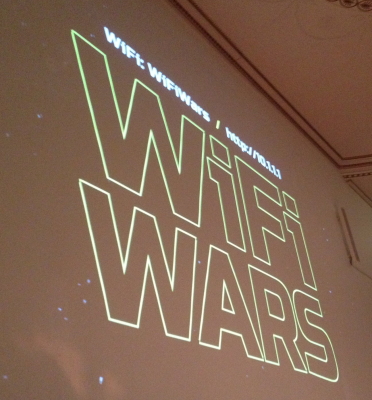 The day ended with a session of "WiFi Wars." This is a live comedy gameshow hosted by Steve McNeil and developed by Rob Sedgebeer, in which the audience log on to the website and complete a variety of games and challenges which are streamed into their devices. Everyone's progress is tracked and an overall winner is announced at the end of the game. This was highly entertaining and hilarious.
Overall, the trip was informative, interesting and entertaining and the girls thoroughly enjoyed the experience they had.'
Categories:
Sixth Form
Whole School