Pupils' achievement and a champion's advice
The grounds of St Augustine's Priory were awash with festivity on the evening of Tuesday 21st June in anticipation of the annual Sports Awards event. Parents arrived to a summer drinks reception on the Chapel terrace and mused over rumours of a very special guest of honour.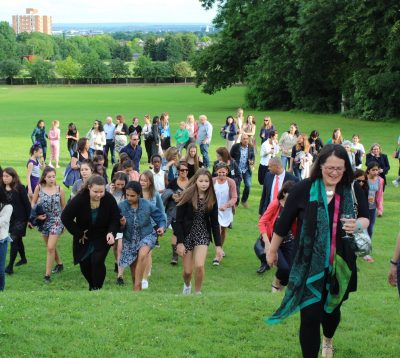 The celebrations began with a dynamic performance by the school's Cheerleading squad, Dynamite. In a splendid display of coordination, athleticism and trust (lifts not to be performed by those faint of heart), pupils earned their applause and more.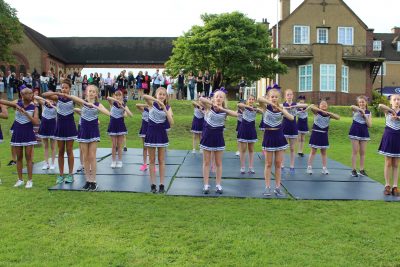 Director of Sport, Miss Lymburn, welcomed parents to the evening before handing the baton over to Elise Mercer of Upper V, to introduce the guest speaker, Naida Hutchinson, former Mavericks and England Netballer.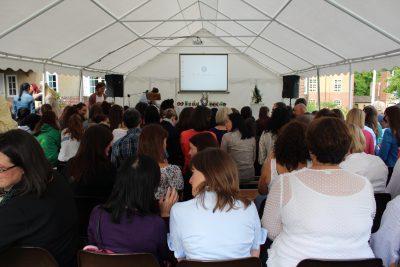 Miss Hutchinson spoke eloquently about her early years in the sport and the challenges of making it to, and remaining in, the England squad. With gusto she spoke of overcoming adversity and the importance of perseverance. Miss Hutchinson's speech was inspiring and refreshingly modest; this successful sportswoman regaled pupils with her story in a manner that engendered a spirit of optimism and commitment – proving herself to be a worthy role model.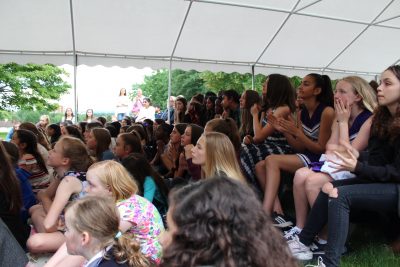 The speech gave pause for thought, humour and lots of intrigue and left the audience relaxed enough to engage in the Q&A session, which again provided a glimpse into the personal experiences and emotions of Miss Hutchinson.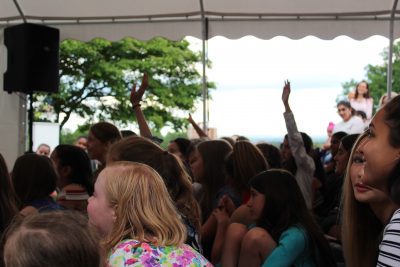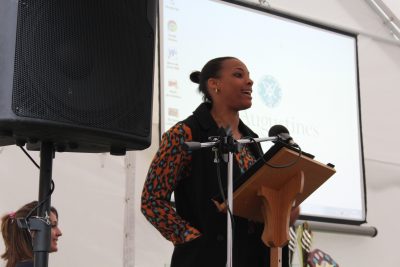 Then came the most anticipated part of the evening: the Awards Ceremony. Team Captains, Eisher Sangha of Upper V, Niran Sahota of Lower V and Elise Murphy of Upper V, introduced the various sports, including Hockey, Netball, Cross Country Running, Dance and Cheerleading, Swimming, Rounders and Athletics. Each sport awarded in the categories of 'most improved', 'player/performance of the year'.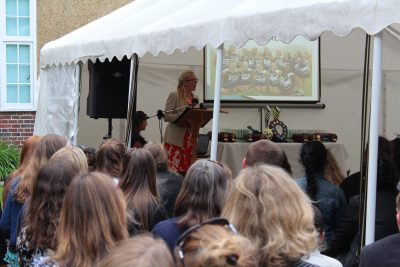 The atmosphere was joyous and paved the way for the most significant awards, those of 'special recognition'. The winners for both Junior and Senior Awards were announced as follows:
For outstanding commitment to school sport – Grace Jones, Emilie Walsham
For contribution to school sport – Frankie Malinowski, Laura Jacques, Mari Phillips, Abrar Mohamed
For most valuable player – Fiyako Ajayi, Grace Aimable-Lina
For team of the year – Under 12 Hockey Team
Junior sportswoman of the year – Coco Stephens
Senior sportswoman of the year – Josephine Hösel
The girls were, as always, incredibly supportive of each other, the evening proving an example of our pupils' sportsmanship – or in this case, sportswomanship!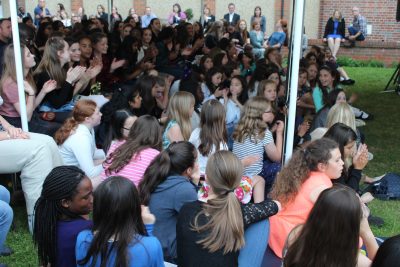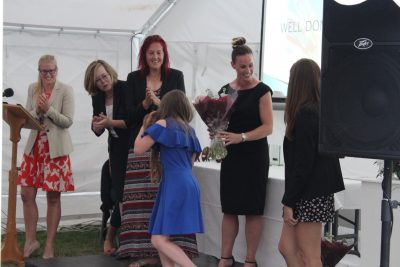 In the spirit of fellowship and recognition, pupils then drew the ceremony to an end by thanking the PE Department for their unwavering efforts to provide Augustinians with all the opportunities they could wish for, to follow their sporting interests and achieve their potential. Individual members of staff were also singled out to thank for their contribution to the sporting life at St Augustine's Priory.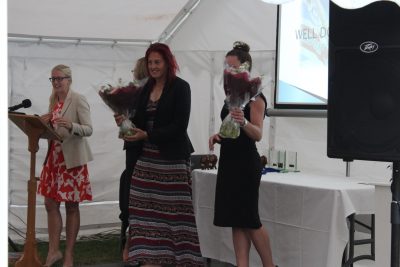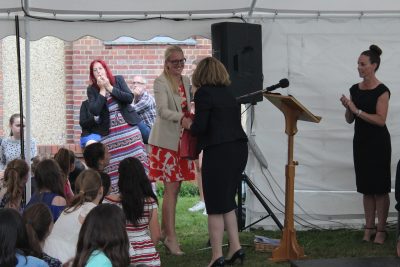 Pupils, parents and staff alike then retired to the buffet to enjoy a well-deserved feast of salmon fillet, chicken goujons, brownies and lemon tarts, expertly prepared and served by our catering team, Holroyd Howe.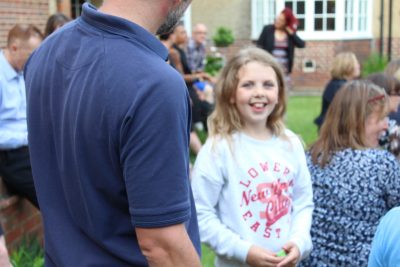 The evening was a great success, showcasing our pupils' talent and strength of character. We look forward to watching each girl flourish as they progress through the school and beyond.
We are also delighted to announce that Miss Hutchinson will be returning to St Augustine's Priory on Friday 2nd September to do some pre-season coaching with the girls.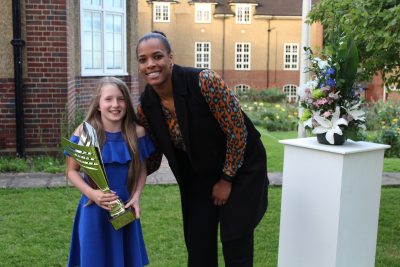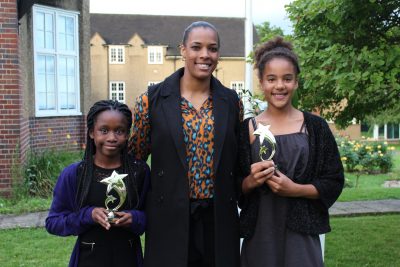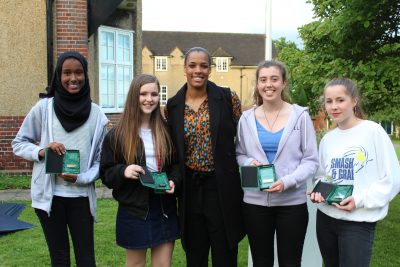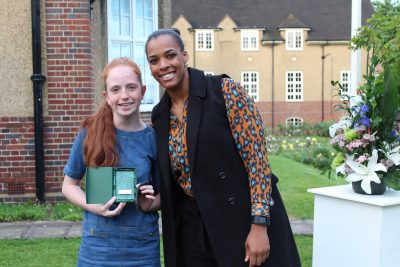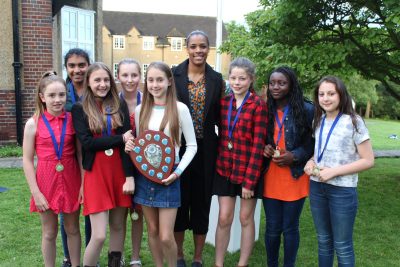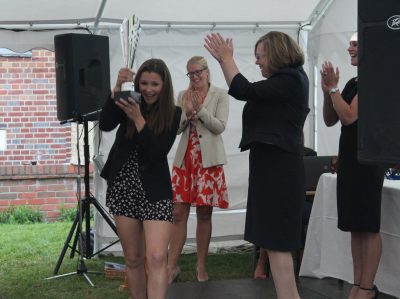 To keep track of our sports fixtures and results, please visit http://sapriory.com/co-curricular-programme/sport/ and follow the P.E. department on twitter @staugustinesPE
Contributor: TFarmer
Categories:
Junior
News Flash
Senior
Sixth Form
Whole School