Three Faiths Forum Link Day
Mrs McDermott, Head of Religious Studies at St Augustine's Priory, reports on the recent Three Faiths Forum Link Day held at St Augustine's Priory.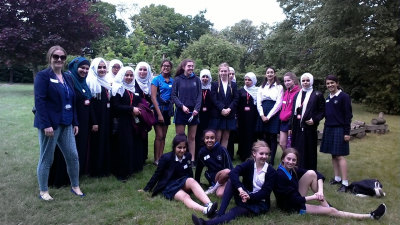 'We have been involved in the work of the Three Faiths Forum since November 2010. This is an organisation that promotes inter-faith dialogue and education.
On Tuesday 24th May we welcomed a group of students and their teacher, from Unity Girls High School in West Hendon. This was our second link of the academic year. On their previous link the girls had been investigating stereotypes through the traditional characterisation of fairy tales. The girls then created their own mixed-up fairy tales to counter the traditional ideas that society has.
After a morning session where the girls set their own safe space rules and took part in a variety of fun ice-breakers the girls went to the outdoor stage to begin planning and rehearsing their own fairy-tales. The girls all worked well together and created two interesting and humorous short plays.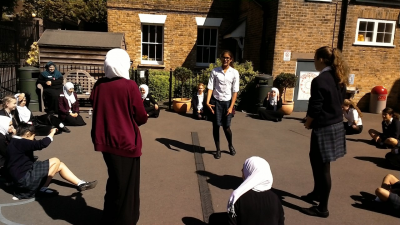 They enjoyed a relaxing picnic in the Prep meadow and the Unity girls were amazed at the beautiful grounds and were more than surprised to meet our chickens.
Before the Unity girls left, we brought them into the Chapel as they had not been in a Christian place of worship before. They were really interested in the Chapel, particularly the piano as they do not use music in their services.
It was a beautiful day of learning, fun and friendship. Something that is so vital in our understanding of each other; our respective faiths and common humanity.'
Categories:
Faith Life
Senior
Whole School