A Letter to all our community
The following is a letter received from Mrs McTaggart Head of Art for all members of our community which we share with you now.
'Dear staff, students and parents of St Augustine's
It is with great sadness that I have made the decision to leave St Augustine's. I have made this decision so that I can focus my full attention on my son Luka, who as you know suffers from a serious heart condition. I realise that my departure from the school was some time ago and I apologise for only writing this letter now, however only recently have I felt able to recount the ordeal that we have been through. I write to you all now to express my sincere gratitude for your prayers, support, love and kindness during what was and still is the most difficult time of our life. I also want to share our story with you to bring greater awareness of cardiomyopathy and the need for organ donation, as well as to highlight the exceptional care that we have received from the NHS.
Luka's Story
Back in September, Luka was misdiagnosed with Bronchiolitis, which in fact turned out to be heart failure. He was 8 months old at the time and my husband and I very nearly lost him. Luka was placed in an induced coma and we were transported by the CATS team (Children's Acute Transport Service) to Glenfield Hospital in Leicester, where we stayed for over a month. This was due to a bed shortage in London. Once Luka was stable and when a bed became available we were transported back to London where we spent one more week in West Middlesex Hospital before being discharged. Luka then became and remains an outpatient at Great Ormond Street where we attend regular appointments at the Heart Failure clinic.
Luka has responded well to the medication he has been prescribed and our appointments have become less frequent. The medication that Luka receives multiple times a day keep his heart functioning so that blood is pumped effectively around his body and transported to his vital organs. For now, this is what keeps our son alive. We must now wait to see if his heart can show some sort of recovery and have been told that this can take years, if it is to happen at all. It is strange, as looking at Luka you would never know there was anything wrong with him. That is why cardiomyopathy is often referred to as the 'hidden disease'.
Luka has Dilated Cardiomyopathy. This is a condition where the left ventricle becomes enlarged – stretched and floppy, therefore not able to pump as effectively. Cardiologists suspect that this is congenital but they cannot be certain. My husband and I have no familial history of heart disease so it may be that Luka was unfortunate to have some sort of gene mutation. Again, research is not advanced enough to prove this and it is possible that a virus could have caused his cardiomyopathy. On starting nursery, Luka picked up two viruses that although not known to cause cardiomyopathy, hit him hard nonetheless. During Luka's stay in hospital he lost a tremendous amount of weight due to his heart working so hard. He was fed high energy formula through a naso-gastric tube which he eventually pulled out on Christmas Day. I think he was letting us know that he no longer needed this and would prefer to fatten up with good food instead! Luka has continued to gain weight and meet his developmental milestones despite his condition, and his recent blood results show that his heart is no longer under stress. Unfortunately his heart continues to show poor function but we are hopeful that our little 'heart warrior' continues to fight the brave fight and goes from strength to strength. I have included a few photos to show the amazing transformation that he has made in 9 months. We are so proud of our little boy. He is our joy and although I live in constant fear that his condition will deteriorate, I also feel so blessed to have such a beautiful and happy child. He is a strong character and takes hospital visits in his stride, often bringing a lot of smiles to staff with his cheeky behaviour and squeals of delight as he stomps through the clinic!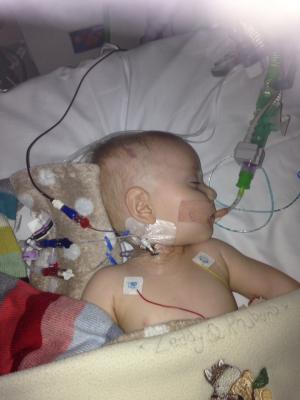 Organ Donation
At clinic we meet many others with similar conditions. It is only now that I have been made aware of the desperate need for organ donation, particularly for children. Cardiomyopathy is a condition that cannot be made better with surgery. For now, the only treatment is drug therapy and heart transplantation. Whilst at GOSH we became aware of Elliot, a 2 year old boy who had been living in GOSH on a mechanical heart for over a year whilst he waited on a suitable heart donor. He has only just received this and is now home and leading a relatively normal life. Had it not been for the generousity and compassion of the donor family, at what must have been the most heartbreaking of times for them, Elliot wouldn't have received his gift and would continue to be in ward living attached to a machine. It is not certain how long he could have remained like this as complications often cause children to die whilst thay wait for their donation. You can follow Elliot's story by clicking the links below:
https://facebook.com/LifeOnTheList/
http://www.standard.co.uk/news/london/gift-of-life-for-great-ormond-streets-little-elliott-after-longawaited-heart-transplant-a3222556.html
Wales operate an Opt-Out service whereby it is understood that your organs will be used by those in need unless you request otherwise. If the rest of the UK could follow suit, many children and adults would not die in hospital waiting for an organ. God forbid that Luka will ever be in this position, but if he is I hope that someone else's selfless act would mean that we could keep our son alive. It goes without saying that my family have all signed up to be organ donors. You can sign up to organ donation using the following link:
https://www.organdonation.nhs.uk/register-to-donate/
Wonderful NHS!
We are so privileged to have our NHS. Only recently I came across a mother's story from the US. Through caring for her child who also has dilated cardiomyopathy, she lost her job and could no longer afford to buy the medication needed to keep her daughter alive. She posted on the Cardiomyopathy UK Facebook page asking advice of what to do as her daughter had now not received a vital drug for two weeks and was becoming lethargic. Countless members offered to send her the drug, but this did not solve her problem long term. I think we often take for granted what we are used to getting for free. Luka takes 6 different medicines once, twice and three times daily. A bottle of each adds up to over £1000. We could not afford to pay for this ourselves.
It is not only the medication that we are grateful for. During our time in hospital, staff were tremendously caring. In Glenfield Hospital we were able to stay in the paediatric cardiac ward with Luka and when it became available Luka and I were given a cubicle and staff allowed us to co-sleep. Nurses often came in at night to administer his medicine and rather than disturbing us would stretch over to akwardly syringe the medication into his NG tube. I cannot describe the intense fear I had of losing my son and being allowed to keep him so close to me at all times meant the world! The nurses were also a shoulder to cry on and would watch or play with Luka if I went for a shower as I didn't want him to be left alone. Luka was weak, withdrawn and scared when he awoke. Play therapists brought toys and encouraged Luka gently to interact with them. They were so sensitive to his fragile state. Doctors and specialists took time to answer my questions over and over again as I struggled to come to terms with what had happened. Every professional played their part in supporting us.
Charity
Many of the resources available to us were purchased through funds raised by various charities. The British Heart Foundation provided toys, parent accomodation, kitchen appliances and much, much more. Great Ormond Street also relies heavily on donations and fundraising. In fact they are currently raising funds for a new cardiac ward. Perhaps if this had existed back in September, we would not have had to travel to Leicester to save our son. To give back a little of what we have received, my husband completed the Hackney Marshes half marathon in May and raised over £3000 for this new ward. You can read his story by following the link below and I believe can still donate to this cause:
https://www.justgiving.com/fundraising/Leon-Lima-for-GOSH-Cardiac-Ward
Thank you
Finally, I would like to thank all of you for your well wishes. It has been a privilege to work in such a wonderful school and teach such special and talented students in such a supportive community of staff and parents. I will greatly miss everyone and do hope to return for visits and, of course for the Summer Arts Evening! I would like to pay particular thanks to Miss Eng for standing in for me in my absence. She has worked relentlessly to ensure that the girls' Art education was not compromised and I know I leave the department in safe and very creative hands. I would also like to thank Miss Grundon who came back from Bristol to help out. As always, she acted selflessly for the good of the department. I will greatly miss working with such a fantastic team but I am comforted in the knowledge that we will be life-long friends. In addition to this Miss Eng and Ms Dolan organized parcels to be delivered to Glenfield hospital and at a very dark time in our lives, this brought a glimmer of light – thank you to all those that contributed. I would also like to thank Mrs Raffray and Mrs Clarke for their compassion, patience and support over the last 9 months. Although I have not been back to school, I have been made aware of all the prayers that were said for Luka and our family and I am so grateful for this, particularly to Mrs McDermott. Saint Augustine's has given me so many good friends and I am sure that in spite of change, we will remain close. I was extremely touched by the lengths that people went to in offering their support and well wishes. The Krynskas so thoughtfully sent us a Rosary bracelet made by their relative who is a nun. Similarly, Ms Dolan's mother made a pilgrimage to Knock to place Luka's name on a prayer list in the Holy site. Many people that we did not even know discovered our situation and offered prayers and gifts such as the beautiful patchwork quilt handmade for Luka by Susan Mills. I have spent a large proportion of the last 9 months at home with my beautiful boy and not had much opportunity to practice or see Art. Mrs Phillips so kindly gave me a ticket to the London Art Fair and it was such a pleasure to be out with my department and the 6th form Art students on this rare occasion – thank you. Last, but definitely not least, I would like to thank my students. You brought such joy to my time at St Augustine's and I formed such a special bond with so many, particularly the examination students who spent many hours in our wonderful Art Department. I will miss you all so very much and hope that you continue to love, experience and practice Art. I expect to someday be invited to your own exhibitions! Thank you also for your cards, gifts and well wishes during our time in hospital. This experience has really highlighted for me the kindness and compassion that exists in the Saint Augustine's community and I am so sorry to leave that. I only hope that one day I will be lucky enough to return to teaching in a school half as wonderful as Saint Augustine's.
Thank you,
thank you,
thank you!
Ms McTaggart
Categories:
Faith Life
Junior
Nursery
Prep
Senior
Sixth Form
Whole School