Fantastic forensics!
Forensic science (the application of science to criminal and civil laws) is a popular subject for television. From documentaries to detective fiction, forensic scientists can be seen gathering evidence at the scene of a crime, preserving it and then the material gathered is analysed in the laboratory. Forensics are a key part of any investigation.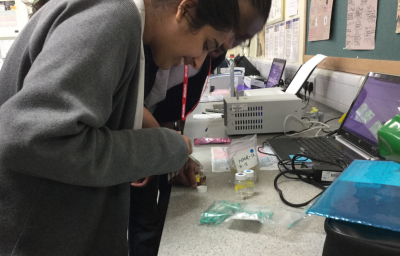 Forensic science is a rewarding profession and is certainly the stuff of glamorous fiction. However, it takes years of study, skill, attention to detail and a passion for science to be a forensic scientist.
Enter our Sixth Form – keen investigators and steely scientists.
On Wednesday 12th May there was a (fictional) suspicious death at St Augustine's Priory. The victim, a Mr Blue, had unfortunately perished and our Sixth Formers were called upon to demonstrate their forensic skills in an attempt to solve his demise – natural causes, accident or something more sinister?
In their investigation the Sixth Form were assisted by our visitors, two researchers from Imperial College, London, who, together with some state of the art equipment, ably guided our students through their forensic analysis.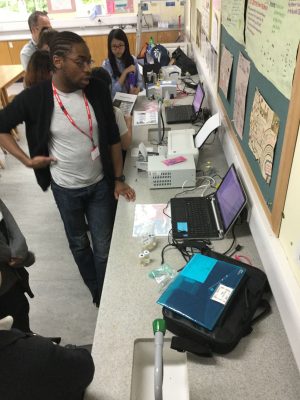 Infrared and mass spectrometry were used to identify unknown compounds present in chemical samples which had been taken from the scene of the suspicious death of Mr Blue.
Lonika Manektalla, Lower VI, commented, 'The day gave us a great insight into the world of forensics and it was wonderful to have the opportunity to use equipment such as the spectrometer. This was a fascinating experience and inspired us to investigate the work of forensic scientists further.'
Thank you to the researchers from Imperial College who provided our Sixth Form students with such an invaluable day.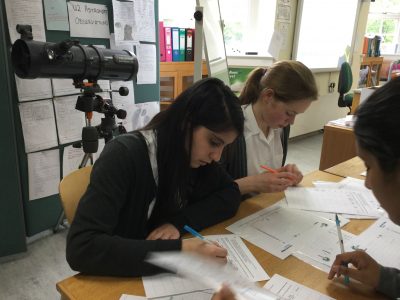 Categories:
Sixth Form
Whole School