Religious Studies and Upper VI
This article from Upper VI students, compiled by Shivali Sharma, reports on the recent visit of Upper VI Religious Studies students to the Buddhist Vihara in Chiswick
'The teachings of the Buddha have been a way of life for millions of people in the East for over two and a half thousand years. Yet, in the West, it is only comparatively recently that many have turned away from materialism to seek answers in Buddhism.
On Friday 22nd April Upper VI Religious Studies students, accompanied by Mrs McDermott, visited the Buddhist Vihara in Chiswick, which was founded by Anagarika Dharmapala and was the first Buddhist Vihara in Europe.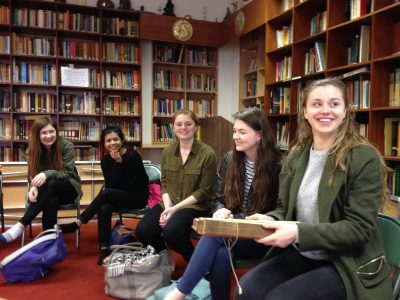 We were greeted by a Buddhist monk called Venerable Ari who first gave us a tour of the temple, which included three rooms. Our first stop was a library where we were taught about the origins of Buddhism and how the monks learnt Buddhist scripture off by heart. It was only some years later that they engraved the teachings into palm leaves. We were lucky enough to be able to hold a copy of scripture which was over 500 years old. Next we went into the Meditation Room which is soundproof and the lights are low to create a calm and peaceful atmosphere where people can meditate for hours. The last room was the Shrine Room where we learnt about the history of Buddhism and how Buddha left the materialist world to seek out his spiritual enlightenment.
The day concluded with a meditation session, Venerable Ari was really impressed with our lotus positions. The meditation helped to focus our minds on our breathing and good wishes for others; as Venerable Ari said, "breathing and well-wishing isn't just a Buddhist thing!" We were then invited into the kitchen for tea and biscuits. Venerable Ari ensured that we all used Sri Lankan tea to round off our visit!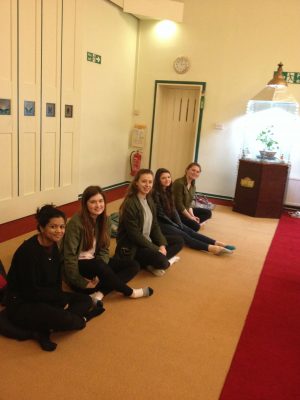 All in all, the trip was thoroughly insightful as it took our learning of Buddhism off the page and helped our understanding of how Buddha's religious experience formed the religion and how his initial religious experience still influences behaviour today.'
"Mind is the forerunner of all states. Mind is their chief; mind made are they." The Dhammapada
Categories:
Faith Life
Sixth Form
Whole School