The leader's perspective.
Role models are as relevant to young people today as they have ever been. The constant vying of 'celebrities' to monopolise young people's attention makes it difficult to identify a 'role model'. What now is our definition? Surely society's paradigm of the ideal… does not comprise merely a presence on Sky Atlantic.
Only recently we heard from guest speaker, Dr Sigman, of the significant degree to which the example of our parents effects our behaviour. The examples we see around us also have bearing on our attitudes, beliefs and dreams. So how do we ensure the range and balance on which we would like our girls to draw?
We encourage our pupils to pursue their intellectual curiosity and in a single-sex environment, they are free to do so without stereotype or prejudice. We can identify therefore their aspirations as individuals. One of the ambitions common in our school is academic discovery and where better to find this than in a Science lab? In a Science lab is exactly where we found our role model.
Senior academic at Imperial College London, Professor Gerry Thomas, visited us on Wednesday to speak to girls about the misrepresentation of nuclear disasters in the media as part of our Senior Science Week. The presentation was fascinating and attendees young and old enjoyed a thorough introduction to the topic.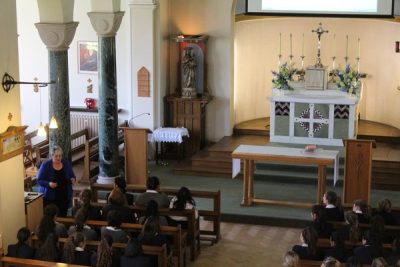 Over and above the Science, however, was a message of tenacity and courage. Professor Thomas' career has followed an incredibly successful, albeit not traditional trajectory. In an industry still distracted by institutional habit and title, a non-traditional route of entry may well seem daunting. Despair not young Scientists, the message from Professor Thomas: follow your dreams in the way that is right for you.
Alongside her impressive research credentials, Professor Thomas' practical experience spans a number of advisory board commitments including the UK-Japan Nuclear Dialogue (from 2012). This is a woman operating in the highest echelons of the industry. But Professor Thomas did not train as a doctor. Nor did she study a BMedSci degree. Rather, a reportedly very enjoyable BSc in Pharmacology was followed by a PhD in Pathology. In addition to her many illustrious roles for one of the world's best reputed universities, Professor Thomas is regularly called on by the world's media to comment on those topics on which she is an authority.
This evidently talented and ambitious woman made it clear that we must not feel restricted by 'usual practice'. When our young women set their minds to something great, there is not only one way for them to achieve their aspirations. Be tenacious and have courage. Discover the route that is right for you. This is the leader's perspective.
Contributor: TFarmer
Categories:
Senior
Sixth Form