Local school partnership with international focus
'Partnership working'. This is a phrase we often hear thrown around and tagged to an infinite number of contexts. We all have an idea of that to which someone is referring with the use of this term, but is it in danger of joining the ranks of 'synergy', 'downsizing' and 'interface', words and euphemisms that should appear only in the memoirs of bygone business jargon? We asked our Lower II students about their recent experience of 'working in partnership' with local school North Ealing Primary during their visit to us on Wednesday 2nd March for a Modern languages Day…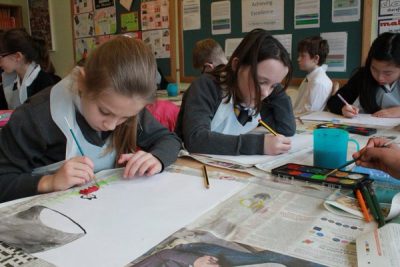 Naomi Nnatu, Lower IIA, said 'We practised some artistic poetry and learned the Russian alphabet, but my favourite part of the day was the French play! It was about an English boy who broke his leg and was left in hospital for two hours. Whilst there he learned lots of French words and phrases. The play was a comedy with only two actors and it was hilarious! I think pupils from St Augustine's Priory and North Ealing Primary had a great time and helped each other to learn lots of new languages.'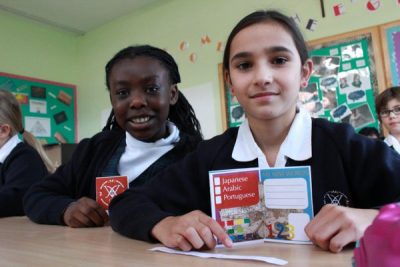 The day included fun activities that facilitated the learning of Cyrillic script, Japanese, and Arabic. Sofia Duffy, Lower II Alpha explains further: 'We did African singing and we learned that the group of people singing follow a leader, copying what they say and sing. We then watched the Haka which also uses a group leader. We learned some Portuguese by playing a fun version of noughts and crosses with animals. Then we did an amazing world quiz that helped us to remember which foods are eaten in different countries, using flags and true or false questions. Modern Languages Day was spectacular and I can't wait to find out if there is going to be another one.'
Mr Alejandro, Head of Modern Foreign Languages, organised the day and received exceptional feedback from staff. These linking days are occasions on which our girls broaden their experience of working with others, collaborating and leading. In addition to the immediate social enrichment this provides, such events contribute to girls' enthusiasm for learning languages and preparation for lifelong success.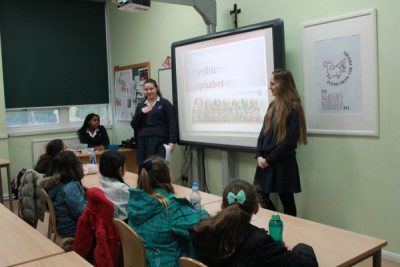 Other St Augustine's Priory students commented, 'It was great fun, I love it. It was nice to interact with the other students from North Ealing,' and 'My time in the Modern Languages Day was really fun. I love learning about different languages because they are so interesting.'
We also received some wonderful feedback from the pupils of North Ealing Primary School, a testament to the joy of working with other schools in our local community, which included:
'There were lovely activities and fantastic idea. More schools should get opportunities like this.' Others commented, 'I love all the different types of languages and St Augustine's is a fabulous school to learn at,' and 'I learnt a lot and I really enjoyed it because the school is very nice and welcoming.' One pupil said that it was 'such fun, there was so much to do. Everything was so brilliant and interactive.' While one memorable comment was, 'I think that I want to go to St Augustine's in high school.'
Thank you North Ealing Primary school pupils and staff for joining us for such a great day. Thank you also to Mr Alejandro and the Department of Modern Languages for providing such an outstanding day of learning and languages.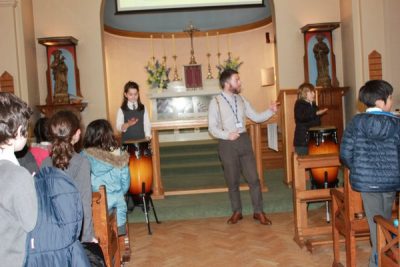 Contributor: TFarmer
Categories:
Junior
Whole School