Hero of Polish WWII resistance speaks at St Augustine's Priory
At St Augustine's Priory our theme for this year is 'Courage'. We were privileged to welcome someone who exemplifies this quality on Thursday 25th February when Mrs Danuta Szlachetko visited us. A young girl living with her family in Poland at the outbreak of the Second World War and the Nazi occupations of Poland, at the age of 14 Danuta joined the Polish resistance and took part in the Warsaw uprising. Astonishingly, she survived the uprising and her subsequent imprisonment as a prisoner of war, travelling to England after World War II as a refugee where she settled in Ealing, married and raised a family.
Her son, George, Szlachetko, has written Danuta's biography, 'Wira of Warsaw' after the codename she was given in the resistance and on 25th February George and Mrs Szlachetko spoke to an audience of pupils, parents and staff, accompanied by Emma Szlachetko, Mrs Szlachetko's granddaughter, who read extracts from her grandmother's biography.
George Szlachetko, Mrs Danuta Szlachetko and Emma Szlachetko.
Mr Szlachetko gave an excellent background presentation of the situation in Poland before and during the Nazi occupation of Poland. From a happy home life before the war to the deprivations of occupation, including the closing of Danuta's school, Mr Szlachetko painted a graphic picture of life in Poland at that time.
After the talk, Mrs Szlachetko, her son and grand-daughter joined our parents and girls for refreshments and questions. Thank you to Miss Trybuchowska, History Department, who organised the visit, and thank you to Mrs Szlachetko, George and Emma for their visit and the privilege of hearing about the extraordinary 'Wira of Warsaw's life'.
Danuta Szlachetko with her grand-daughter, Emma.
If you are interested in discovering more about 'Wira of Warsaw', Mr Szlachetko will be speaking at Waterstone's Chiswick, on Wednesday 9th March at 6.30pm and also at Chiswick Library at 6.00pm on Monday 11th April.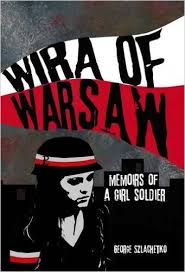 Categories:
Faith Life
Junior
Nursery
Prep
Senior
Sixth Form
The Association
Whole School