First Frame Finale
The familial community of St Augustine's Priory manifests itself in many ways, not least through those creative outlets that awaken our imagination and evoke a sense of legacy. We are blessed by a history rich with spirituality, kinship and shared responsibility. Peculiarly in this age of 'magpie' like behaviour, in which we seem locked in a pursuit of that which is shiny and new, our girls find themselves able to relate to those who preceded them and the values they held dear.
One such example of this custom is our ongoing embroidery project, upholstering the wooden chapel kneelers, which began as part of our Ealing site's centenary celebration: One Hundred Years of Faith. Pupils have designed new covers for all the Chapel's kneelers and are embroidering those designed for short kneelers themselves.
Following a laudable effort, in particular by the Cogswell family, to bring together girls and ladies to contribute to this commemorative spectacle, we have an enlivening update: A small, committed team of parents and daughters have completed our first frame.
The frame, undertaken by one of twelve project groups, was designed by Mrs McDermott, Head of Faith Life at the School and her daughters Niamh and Enya. With some editing expertise from Miss Eng, Head of Art, the McDermotts began the embroidery over Christmas. Subsequently, Mrs Phang a Lower I parent and embroiderer extraordinaire, finished the frame with help from her daughter Primrose.
The oil lamp in the centre of the tapestry symbolises the continuity of our faith, the inspiration for which was found by the McDermotts in one of our cherished stained glass windows. The design celebrates our love of learning, through the flame of knowledge and use of the word "knowledge" alongside its respective translation, "savoir", "cognitio" and "eolas", in French, Latin and Gaelic.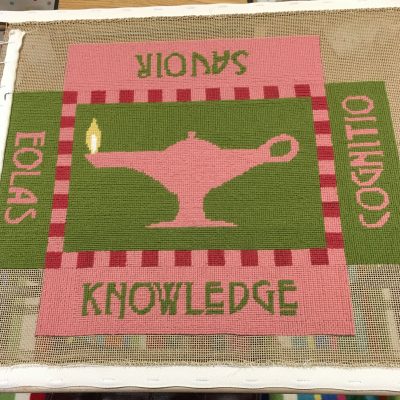 This tapestry is a true reflection of community. Of understanding. Of fellowship. Of respect. This seemingly complex piece of art, the beauty of which is found in its humble service, is in fact very simple – it personifies the Catholic values to which we as a school community aspire.
Contributor: TFarmer
Categories:
Faith Life
Junior
Prep
The Association
Whole School