Introduction
Welcome to Priory 6, the St Augustine's Priory Sixth Form for girls.
We are delighted that our girls have received offers from Oxford and Cambridge for 2020 entry along with many other world-class universities.
A Level Results 2019
We are delighted with yet another year of wonderful A Level results. 91% of A Level and EPQ grades were A* to C grades whilst 73% were A* to B. More than three quarters of EPQ grades were A* – A and across all STEM subjects 100% of grades were A* – B. In a range of subjects including Art, Biology, Chemistry, Classical Civilisation, Drama, German, History, Maths, Music, Physics, Russian, Spanish and EPQ, girls scored only A* – B grades.
At Priory 6, our students believe;
In ambition
In community
In using their voice to seek answers …. to empower others
In making a difference
They are here for a reason
"Having studied Drama, English Literature, History and Latin for my A Levels, I believe the academic subjects I chose helped contribute to my career but not as much as the support and life lessons that St Augustine's gave me." – Rebecca Koczan, Senior Campaign Manager in the UK Marketing team for Live Nation Entertainment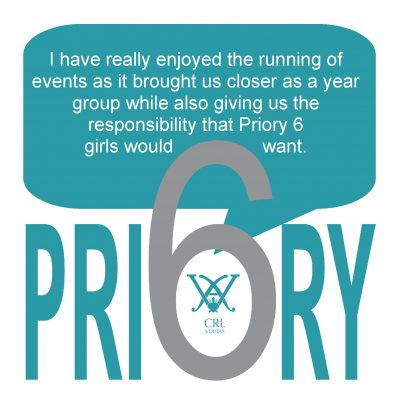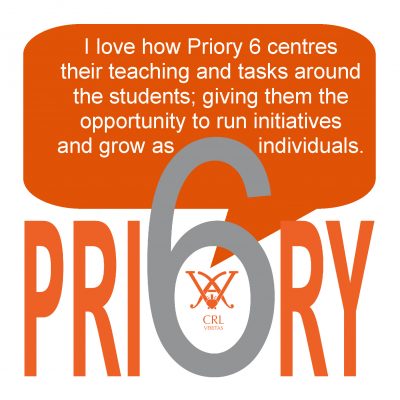 Priory 6 News
We are delighted that as of this academic year, Priory 6 will be enjoying their PE lessons at the fantastic luxury gym Eden Fitness in West Ealing. Girls will be taking part in a number of classes and will be working on their own fitness programmes.
Our Big Sister Little Programme run by the Deputy Head Girl for Seniors launches for this academic year on Friday 6th September with a lunchtime 'Getting to know you' session.
Priory 6 students and staff are off to Stubbers Adventure Centre from 6th-8th September for team building, risk taking and a lot of fun!
This year's Shakespeare Schools Festival will offer Priory 6 students who have been invited on to the Drama Gifted Pathway to audition or take on main backstage roles for our production of King Lear taking place on Monday 19th November at Watermans Arts Centre. Leadership roles such as Assistant Director, Stage Manager and Costume Designer will be available to eligible Priory 6 students.
This year marks our launch of the Ethical Leadership Programme. Lower VI students and our Senior Veritas Scholars will be completing a Silver or Gold accredited qualification by the end of this academic year.
Priory Purpose, our Sixth Form's charity initiative, broke all records with last year's Fright Night in November, raising an astonishing £940. Completely run by Lower VI students, this popular event provided a challenging escape room experience for pupils with staff dressed up as terrifying characters. Watch this space for news on Fright Night 2019 coming up this Autumn.
In September 2018, two of our Lower VI students founded their own pressure group called Preventing Period Poverty after discussing pressure groups and non governmental organisations in a Government and Politics lesson. You can donate to them online via our Amazon wishlist: https://www.amazon.co.uk/gp/aw/ls/?ref=navm_em_mobile_menu_lists   You can also follow them on Instagram: @preventingperiodpoverty
Congratulations to this year's Travel Scholars who have recently returned from Vietnam. We look forward to hearing all about it at the beginning of term. The deadline for applications for 2020 Travel Scholarships is Friday 18th October.
Girls continue to give Wider Reading presentations every Monday afternoon in the Priory 6 Common Room. Highlights have included Animal Ethics, Brexit and The Go Between.
Priory 6 and Upper V students have been busy on their work experience programme this summer. Placements have included the BBC, Cause Communications and the Houses of Parliament.