Form III
Girls entering Form III (Year 7) embark on the first phase of their journey into the Senior School. Learning is purposeful and challenging as well as pleasurable and girls are fully supported throughout this transitional stage in order to capitalise effectively on the rich offerings of the Senior School.  We encourage strength of character, enabled in the community. We seek to inspire our girls so that they see the rewards of intellectual curiosity and discovery. Each girl achieves her potential and more. There are plenty of opportunities for girls in both classes to recreate together as well as to jointly participate in sport, drama productions and extra-curricular clubs.  In addition girls enjoy residential holidays and joint school outings.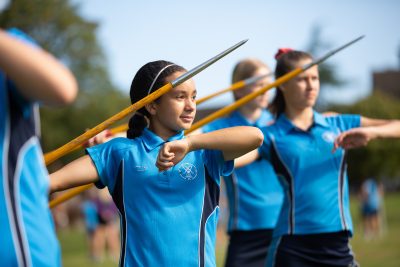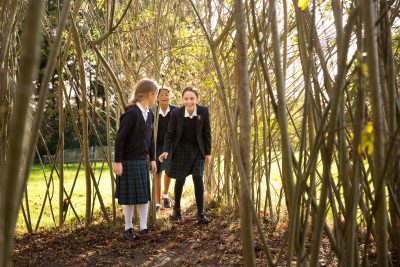 The following events are organised during the Form III year and are designed to help the girls with their transition into Senior School as well as to build confidence and enthusiasm as preparation for life-long learning.
"I was thrilled that I received the Catherine Aylward award for my contribution to the school" Form III pupil
Joiners' event
During the Upper II Summer Term, girls are invited to attend a joiners' event.  This is an afternoon in which existing and new girls participate in a series of activities with their future class mates as well as many of their teachers.  It also provides an opportunity for parents to get to know staff and each other.
Information evening
We ensure we support your daughters both pastorally and academically.  A parents' pastoral drop in occurs in July and September and there are opportunities to meet the Head of Year and Form Teachers. An Academic information evening is held at the beginning of the Michaelmas Term. The evening features presentations by Form III Subject Teachers to give an overview of the year ahead.
Big Sister, Little Sister
Each Form III pupil is twinned with a Big Sister in Priory 6 – someone who can offer support and advice on life in the Senior School. Simply put, they are a friendly face and someone the younger pupils can talk to; who has 'been there before' and is happy to help. They are available to their Little Sister to listen, care and to provide a positive female role model. St Augustine taught that a secure and happy environment enables the best learning and our community reflects that.
Retreat – High Ashurst
It is a tradition at St Augustine's that Form III enjoy some time away together early in the Michaelmas Term.  We feel that at this stage getting to know one another well, establishing friendships and learning to work together with their teachers as a cohesive unit is central to the creation of a secure learning environment for our girls.  So, whilst undoubtedly a lot of fun, this trip has a serious, educational purpose too.
"I can confidently say that, as an individual, I belong to St Augustine's Priory, and always will" – Form III pupil
Assessments
The girls are assessed throughout the year by end of topic test or unit assessments to ensure the best possible progress for each girl. During the Summer Term, Form III pupils complete a formal set of assessments on all academic subjects. These assessments are completed under strict examination conditions to allow the girls to get a taste of what will be required of them further up the school.
Form III experiences
Throughout the year Form III pupils have many opportunities to further develop them as a whole person, be it in the traditional education form or even challenging themselves in areas unfamiliar to them. Examples of the events that ran this year are:
'Your Life, You Choose' workshop
Natural History Museum trip
Ski trip
The school drama production
Involvement in the school council
The Music and Speech Festival
Charities Week
Spanish and French plays
The Globe Theatre trip
The Geography trip
The Netball Sports Tour
The Hockey Sports Tour
"As a form we gained friendship, courage and belonging. The best feeling after the trip was a much more secure sense of belonging, not just to the school but to each other" – Form III pupil on a High Ashurst retreat
Relevant Articles