Lower II
This is an entry point for many new pupils to the school, and we have a two form year group. New girls are warmly welcomed into the school and quickly settle into their new peer groups. On entering Lower II (Year 5), rising pupils move up to Upper Key Stage 2, where they are challenged and extended by taking a broader range of subjects.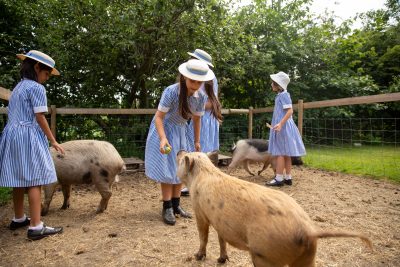 This dynamic way of learning enables the girls to not only widen their subject knowledge, but also gives them an opportunity to be taught by subject specialist teachers. In addition, girls are encouraged to develop their study skills by having two assessment weeks across all subjects throughout the year, making their academic transition into Key Stage 3 a smoother experience.
Girls start to take on more responsibilities within school life and continue to act as a good example to girls lower down the school. They take part in the larger school community and represent the school through their participation in the Junior Choir, Junior Orchestra and team sports. In regards to the religious life of the school, pupils in Lower II are expected to organise and deliver Masses throughout the year and are encouraged to explore their own faith beliefs and express these through a range of prayer activities.
In Lower II, girls have the opportunity to go on an exciting multi-activity Residential Visit, where they take part in enhanced challenging and team-building activities.
Lower II girls gain confidence both academically and personally – each pupil is given the opportunity to grow and is expected to be improving organisational skills, taking responsibility for their choices and pushing themselves forward preparing them for their final year in the Junior school.
Relevant Articles