Travel Scholarship recipients
Every year, Year 12 students at St Augustine's Priory are encouraged to apply for the school's Travel Scholarship.  This gives pupils the opportunity to change the world.
Simran, now in Year 13, takes up the story.  'Towards the end of last year, I applied for a Travel Scholarship offered to Year 12 students by the school. I saw this as an excellent opportunity to carry out a project that is very close to my heart. This project was inspired by my maternal grandmother who has a condition known as Glaucoma. Glaucoma is a genetic eye condition that causes permanent and irreversible damage to the optic nerve owing to a build-up of fluid, increasing pressure in the eye. If Glaucoma is not diagnosed early and treated in time, can cause blindness. My grandma only has 2% of her vision in her right eye and 30% in the left eye.
I decided to liaise with an eye hospital called 'Sadguru Netra Chikitsalaya', that my grandma regularly receives treatment from, which is in a village called Chitrakoot, in a remote part of India. My project involved launching a Glaucoma Detection Camp for villagers in the surrounding areas of Chitrakoot. I would spend 5 days volunteering in the eye hospital, which would include designing a questionnaire for the patients who come for various treatments or inquiries.
My journey included travelling to Mumbai from London on 12th July 2022. After spending a couple of nights with family in Mumbai, I took another flight to Prayagraj (Allahabad), which is the closest airport to Chitrakoot. A car from the hospital met my grandma, my mother and I from the airport as Chitrakoot was still a three hour car journey from Prayagraj. Upon arrival, I designed the questionnaire straight away, so that I could begin screening patients immediately. Then, I was introduced to the hospital staff who were going to guide and assist me in the launching of my project. Through this Travel Scholarship, I was able to interact with a wide range of people and help spread awareness of Glaucoma. In my free time, I visited nearby temples, a cow shelter and a supermarket run by women from nearby villages. I am so thankful for this experience as it was extremely enlightening and humbling.
Furthermore, owing to my fundraising efforts and lots of generosity from well wishers, I was able to raise £3,500. A large portion of this money (£760) came from the school and the Parents' Association supporting me in organising a raffle, where I collected prizes from various well-known brands and companies for free, whilst sponsoring my Travel Scholarship cause.
The entire amount of money will go towards an annual outreach camp, which will involve a team of doctors and nurses going to surrounding villages and testing potential patients. These villagers will then receive any treatment they may need at the eye hospital and also be transported back to their homes, free of charge.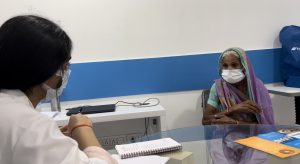 I have decided to name this outreach camp after my grandmother and this legacy will continue on through the family.
I would like to thank St Augustine's Priory, the teachers and the Parents' Association for all the support they have given me and for granting me this wonderful opportunity to do something so amazing and make a difference to the lives of many. Thank you to anyone who has contributed to this cause, I really appreciate all the generosity!
Two other recipients of the Travel Scholarship, Celeste and Rania, travelled to Brazil where they worked with a charity in the state of Goiás, training local prisoners the art of embroidery.  The prisoners are paid for each item completed and also given three days off their sentence.  Celeste and Rania used the money raised before their travels to buy a nutritious meal for all the prisoners.
As Celeste commented, 'St Augustine's Priory has taught us the values of redemption and forgiveness, no matter what'.
These students embraced the opportunity given to them and, with courage and determination, have taken steps in ensuring that their actions and commitment have changed people's lives.
Categories:
Faith Life
Priory Post
Senior
Sixth Form
Whole School