Wisdom at an inspirational Assembly.
Life is full of transitions, of change. Life at school is no different. The last year of Juniors, Upper II, and the first year of Seniors, Form III, are full of challenges and excitement, where Upper II is leaving one stage of school life behind and looking forward to entering the new and exhilarating world of the Seniors.
Towards the end of the Summer Term, Form III led an Assembly filled with wisdom where they looked back at their first year in the Seniors and spoke to Upper II about all that lay before them and the role that God will play in their lives. Form III is a year filled with the new, but also with the familiar as, being an all-through school, St Augustine's Priory brings the advantages of combining the familiar with the 'to be discovered.'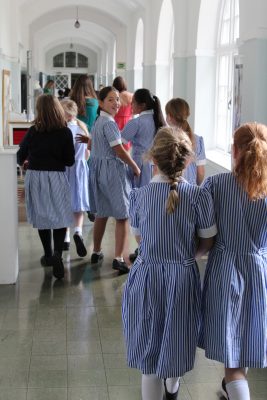 Their Assembly began:
'There seems to always be a guarantee in life that change will happen. Change is something we tend to fear and become anxious about because we do not feel control of life. The good news is that God has a plan for your life to hope and to prosper. If we trust in God and allow the change to enable us to grow to become more like Jesus Christ in how we respond and act, then we are promised that all things will work together for good for those who love Him and keep His commandments.'
Sofia's speech began with a reading from St Paul's letter to the Philippians (Chapter 4, verses 6 – 8):
'Do not be anxious about anything, but in every situation, by prayer and petition, with thanksgiving, present your request to God. And the peace of God, which transcends all understanding, will guard your hearts and your minds in Christ Jesus. Finally, brothers and sisters, whatever is true, whatever is noble, whatever is right, whatever is pure, whatever is lovely, whatever is admirable – if anything is excellent or praiseworthy – think about such things.'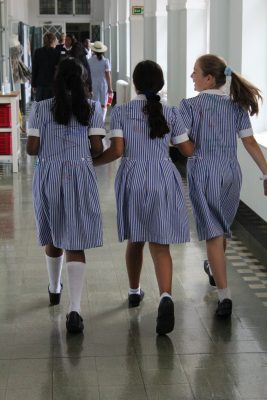 Sofia then continued: 'I think this quote is vital to the growing and developing of Form III. The first year of secondary school, it's big, important and sometimes quite daunting. Right? We have all experienced it or, for Upper II, they will experience it soon. However, from the experience of coming into St Augustine's Priory from a different school, I have really been welcomed with open arms and now I feel like a real St Augustinian. One of the things that really inspired me in my time in Form III is the fact that I was told that I was correct, that my opinions and my thoughts were right. I was supported and the light was shone on the things that I did right. For once the spotlight was shone on me and all the other Form IIIs individually and we were not just addressed as a year group. You were, and are, praised for your hard work and the efforts that you had made. Now, don't get me wrong, we are and need to be corrected so that we can improve, and taking on corrections is a praiseworthy task in itself.
God was a big aspect of life in Form III; we take religious education as a subject in the curriculum as all of us students do. In Christianity one of the most important things that we are taught is that God loves us and, even if we don't love him back, he will still wait till his child returns to him. In Form III we learned about the Prodigal Son. One of the father's sons leaves the family home and is careless, spending all the money that he was given. He went back to his father and his father saw him from a long way off and, filled with love and compassion, ran to his son and forgave him, straight away welcoming him back into the house and the family. The meaning of the story is that God will always be there for us and if we understand and accept that we did wrong, then God will forgive you, like the father in the parable, and welcome you back into his family.
So, being positive and letting God shine a light in your life really helped me and many others as we grew in Form III.'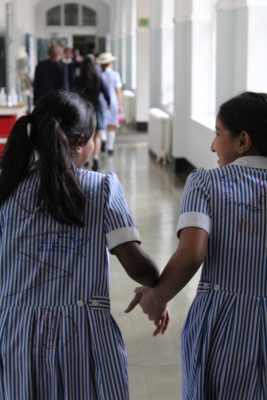 Isaiah, chapter 43, verse 19, was the starting point for Izzy:
'See, I am doing a new thing! Now it springs up; do you not perceive it? I am making a way in the wilderness and streams in the wasteland'.
'When you move into the Seniors there are so many new opportunities that become available. I would recommend trying out as many new things as possible; taking on more responsibility as a senior student at St Augustine's Priory, joining clubs such as the photography club, the orchestra or new sports clubs. I will be sure to try them again in the future and continue to go outside my comfort zone'.
Hannah quoted Jeremiah, chapter 29, verse 11, "'For I know the plans I have for you,' declares the Lord, 'plans to prosper you and not to harm you, plans to give you hope and a future". Hannah commented, 'My time in Form III has been really fun and exciting. In Jeremiah it states that God has a plan to give hope and a future and this is relatable to my time in Form III. At first Form III was really scary, but trust me, you have an amazing future year ahead of you, you get to try new subjects, have freedom, make new friendships, and meet new teachers. And it made me flourish and prosper as a person as I have developed new skills and have challenged myself in class. So, my advice is, have fun and remember God has a plan for each and every one of us and it's going to be amazing.'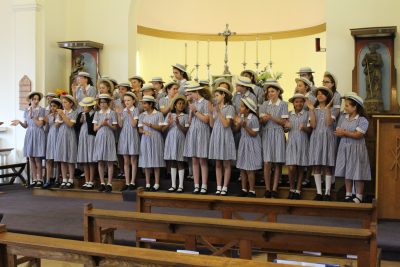 Lexy quoted Deuteronomy, chapter 31, verse 6, 'Be strong and courageous. Do not be afraid or terrified because of them, for the Lord your God goes with you; he will never leave you nor forsake you.' Maria said, 'Friendships move on, that is natural. Don't be afraid to stand up for what you believe. I was really scared during exams but I understood that there is nothing to be worried about because God is with you.'
Maria had this to say, based on Ecclesiastes chapter 3, verse 1, 'There is a time for everything, and a season for every activity under the heavens.' She said, 'This links to my school life as it reminds us of all the fun activities we've done as a class and how we influence each other, stand up for each other and look up to each other. Just as God influences us, stands up for us and teaches us. Whether it's raining or the sun is shining we always have a positive attitude!'
Categories:
Faith Life
Junior
Priory Post
Senior
Whole School