Success through the struggle.
We thought that you would be interested to see the latest in the editorials written by Mrs Raffray to appear in the May Half Term edition of the Primary Times. Entitled, 'Moving the Helicopter: Success through the struggle', this article talks about ensuring encouraging and enabling deep and independent learning. (Unfortunately, owing to an oversight, Primary Times did not credit Mrs Raffray for the article).
'We are all used to the sadly pejorative terms for modern parenting and I wonder how many of us are uneasy when we read articles about helicopter parents, tiger parents, lawnmower (or curling) parents.* Latest educational research has thrown up a properly useful concept for us as parents and educators, which challenges those negative words. This concept is also enormously empowering for our children as well as us.'
Did you know that "struggle" is the new buzz word in enabling independent, deep learning? Now there is a word which is loaded with challenge and which needs reclaiming. When we say struggle we think of physical efforts to conquer something, or emotional strides needed to overcome fear or pain. It is a word we associate with time and energy, with the anxiety of failure, frustration and the desire to give up and hand over to someone who can do the job more easily.
Research is showing that in educational terms, the struggle is where the learning occurs precisely because of the tussle, because it requires strength of character and develops resilience. Since reading of this I have become acutely aware as a parent just how often I intervene even before the struggle has begun. Imagine the scenario (and there are so many aren't there?) where your child, standing on a lovely new carpet, is about to pour from an oversize carton of juice into a wobbly cup. "I'll do that!" you say brightly or you issue a torrent of instructions and risk assessments. Or perhaps they have moved up a reading band, and the desire to read systemically every day is not proving quite so joyful for anyone. There can be a strong temptation to help by reading some of the book for them – after all reading to your child is an excellent thing is it not? Or they are writing a story and have hit a brick wall?
The thing about brick walls, speaking metaphorically, is that they are there to be climbed and children are made for climbing. Hand over fist and step by step. Placing toes on any outcrop, finding fingerholds and stretching and pulling their way up. Until the top is reached.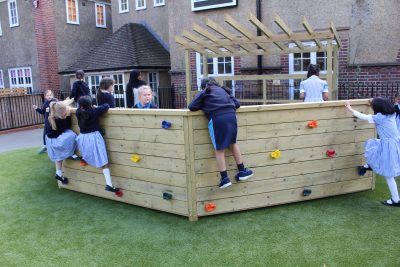 And then, what a view! Yes, people have walked with them, have encouraged and have taught ways which can work – have helped. But the work is done by the child, leading to a sense of accomplishment and achievement, mental muscles stretched, honed and toned.
The struggle, the striving, the fight – all has been worth it.
This sense of achievement and accomplishment can be banked, can be stored up to be a stepping stone for the next brick wall that is just over the horizon. Until many brick walls later when the world is before them, your child can look back and see their journey as a series of steps, leading to their view from the top of the world. A strong individual keen and ready to take on the opportunities afforded by the next brick wall and the next view from the top.
As the late Professor Randy Pausch said,
"The brick walls are there for a reason.
The brick walls are not there to keep us out.
The brick walls are there to give us a chance to show how badly we want something.
Because the brick walls are there to stop the people who don't want it badly enough.
They're there to stop the other people."
*Key to parenting terms:
– helicopter parents: those who hover, are overprotective,
– tiger parents: those who put excellence above everything,
– lawnmower or curling parents: those who remove all obstacles which may present a challenge and thus ensure a clear path – with no challenges and no struggles.
Categories:
Junior
Nursery
Prep
Priory Post
Senior
Sixth Form
Whole School