Rifleman William Eve.
Continuing the commemoration of the centenary of the ending of World War I our Assembly on Tuesday 6th November was prepared and presented by Lucy Phillips, Lower V. She researched the life of Rifleman William Eve.
Rifleman Eve kept a diary of his experiences and extracts from these are printed in bold.
'William Eve was born on 22nd September 1894 and lived at 9, Solon New Road, Clapham. In 1911 he moved in with his uncle and aunt at 3, Highworth Gardens, Midhurst Road, West Ealing, only twelve minutes by car from St Augustine's Priory. He joined the Territorial Force soon after his move, enlisting with The Queen's Westminster Rifles.
Following the outbreak of war William Eve was called up on 26th August 1914 and, like most territorial soldiers, he immediately volunteered for 'Foreign Service'. After forming up at Hemel Hempstead, his battalion landed at Le Havre, Northern France on 2nd November 1914. The Queen's Westminster Rifles were amongst the very first Territorials to enter the line as reinforcements for the hard-pressed British Expeditionary Force.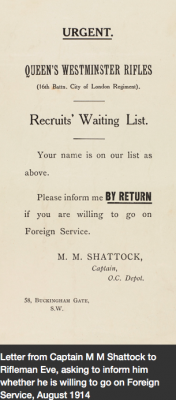 Rifles and riflemen
Although no battle in the First World War was decided by riflemen, no battle could have been fought without them. The rifle was and remained the primary weapon for combat troops. The rifles' availability in sufficient numbers was the precondition for the use of special high performance weaponry. The rifle had neither the firepower of a machine gun, nor the total impact of a hand grenade, however it did have the ability to be used by a single person, portability, logistical simplicity, reliability and they were widely available. In Great Britain, it was estimated that 3,579,000 rifles were made in mass production from 1914-1917. A rifleman's job was to locate, close with, and destroy the enemy by fire and maneuver, or to repel his assault by fire and close combat.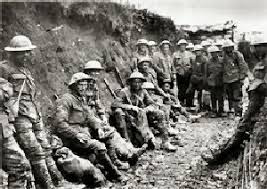 Diary: 13 January:
Heavy shelling at houses in our rear. Some incendiary shells. Word passed down to keep close up to parapet as at 3.30 the brewery was bombarded. At 3 the Germans shelled the farm at rear where we get our water, our guns later (to time) replying rapidly. Excellent firing, the brewery being shattered, saw chimney fall. Snipers shot while leaving two of their shots before going through the officers' hut, missing them by about a foot. The best bit of fun we've had.
Life in the Trenches
World War I trenches were dirty, smelly and riddled with disease owing to dead bodies being left to rot in and around them which would have also been traumatic for other soldiers. For soldiers, life in the trenches meant living in fear. In fear of diseases (such as cholera and trench foot) and, of course, the constant fear of enemy attack. Rats in particular were a problem and ate the soldiers' food as well as the actual soldiers while they slept. Lice also caused a disease called Trench Fever that made the soldiers itch terribly and caused fever, headache, sore muscles, bones, and joints. Soldiers would have got little to no sleep due to the noise, and 80,000 British soldiers were said to have had shell shock, believed to be the result of a physical injury to the nerves and being exposed to heavy bombardment.
Many soldiers living in the trenches suffered from Trench Foot.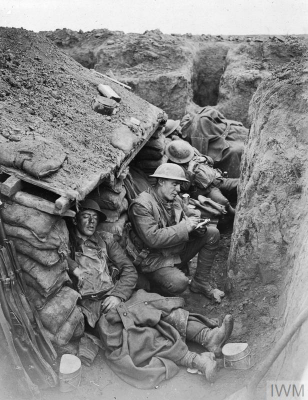 Diary: 7 January:
Poured with rain all day and night. Water rose steadily till knee deep when we had the order to retire to our trenches. Dropped blanket and fur coat in the water. Slipped down as getting up on parapet, got soaked up to my waist. Went sand-bag filling and then sewer guard for 2 hours. Had no dug out to sleep in, so had to chop and change about. Roache shot while getting water and Rifleman Tibbs shot while going to his aid (in the mouth). Laid in open all day, was brought in in the evening, unconscious but still alive. Passed away soon after.
Trench Foot
Because of the wet muddy conditions, many soldiers developed trench foot which is "a painful condition of the feet caused by long immersion in cold water or mud and marked by blackening and death of surface tissue." This could also result in nerve damage and a need for leg amputation. The soldiers were instructed to change their socks multiple times a day to prevent trench foot as much as possible. Whale oil was used as grease to help to minimize the condition but around 74,000 British and US soldiers were affected by the end of the war, and 200 men were paraded due to trench foot, including William Eve.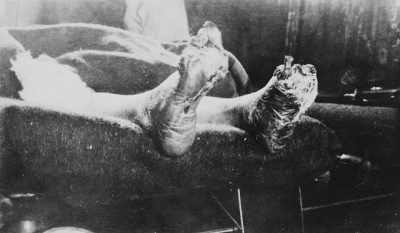 Diary: 16 January:
Stand to with full equipment ready to go at 4am. Waited until about 5.30 before relieved. Marched to billets at Houplines. Got in ripping cottage with 4 others, George included. The people were awfully good, doing anything for us. Boiled water for us to wash our feet and bandaged them. After washing my feet were very bad, went for parcels which made them worse. George in the evening had to go on wood fatigue to trench.
Diary: 17 January:
Paraded sick for feet. Wrote letter home. Gave Madam 5 pcs [postcards] as souvenir. Went to dressing station to go to hospital at 4pm. Waited in a sort of barn for horse ambulance. It arrived at about 8pm took us to Armentieres. Stayed the night in a hospital, had pea soup before turning in. In ripping room, stretchers as beds. Regular gave me German stud and English knife as souvenirs.
Christmas Truce
On Christmas Day 1914 on the Western front, soldiers on both sides put down their weapons and made a truce for no shooting that day. They met in no man's land and sang carols like Silent Night and exchanged gifts – the Germans gave the British sausages and the British gave the Germans chocolates. A British soldier kicked a football out of his trench and a football match started. It reportedly ended with Germans winning 3-2. The British High Command did not agree with the truce as they had suspicions about Germans planning an attack. The truce only lasted until the New Year when soldiers on both sides returned to their trenches and resumed the shootings.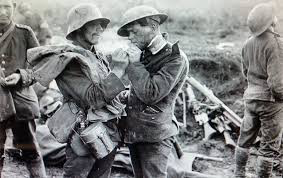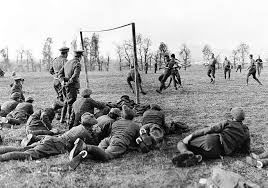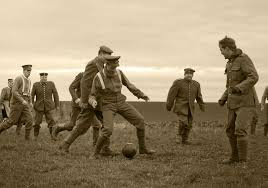 Rifleman William Eve was present at this event.
After a short period in hospital back in England for trench foot, William Eve was commissioned into the 2/6 Battalion of the London Regiment on 29th September 1915, as a 2nd Lieutenant. From then, he was Battalion Signals Officer and saw action at the start of the Somme offensive in June 1916. He was invalided out of the army on 29th July 1916, due to epileptic seizures, brought on by the shelling. His three older brothers, Gerald, Jack and Hubert, all in the army, also survived the war.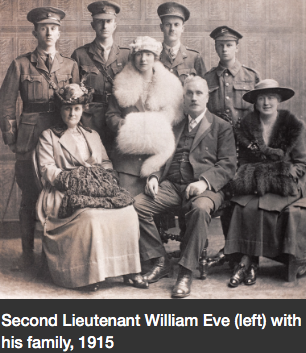 At the end of the war William Eve was awarded three medals: the 1914 Star (reserved for volunteers before 1915), the British Medal (reserved for British soldiers) and the Victory Medal (reserved for soldiers belonging to the Allies).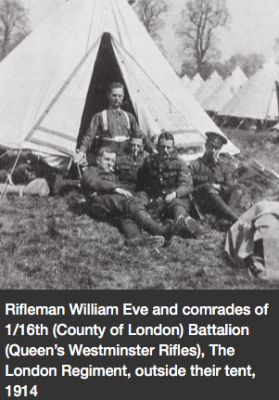 William Eve settled at 79, Harrow View, Harrow, Middlesex. He married in 1922 and lived in Surrey where he died in February 1981.
Categories:
Priory Post
Senior
Whole School