Ste Marie de Neuilly and St Augustine's Priory enjoy a day out.
Last week we enjoyed a tremendous few days with our sister school, Ste Marie de Neuilly. Ste Marie occupies the site in Neuilly where our school was located from 1862 until 1911 when we relocated to England. This first part of an exchange visit has been a wonderful experience for both our schools.
Pupils and teachers from Ste Marie arrived on Thursday 3rd May and spent the afternoon taking part in lessons with our pupils. At the end of school afternoon tea was held for our guests with their host families in the rose garden and they then departed for home.
On Friday Ste Marie teachers and pupils enjoyed a day out in central London on an open top tour bus – with the fine Spring weather this was the perfect activity.
Saturday saw the two schools reunited when Ms Gandi and Mr Alejandro, together with the Ste Marie teachers, climbed aboard a coach with the pupils from both schools to enjoy a day out at Windsor. The warm May Bank Holiday weekend sun shone – this was a day to explore British history and enjoy a picnic lunch.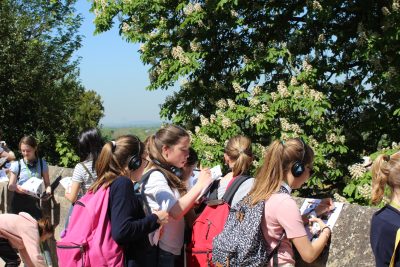 The Union Jack flew over Windsor Castle's Round Tower as we joined the queue to see the State Apartments. Following the 1992 fire at Windsor Castle there were several years of repair and restoration of these magnificent apartments and we wandered through the rooms seeing the old master paintings of kings and queens of days gone by, tapestries, suits of armour and exquisite furniture.
We were even able to see preparations for the wedding of Prince Harry and Meghan Markle, due to take place on 19th May. In one room tables had been set out for a reception with chairs stacked high ready to be set around them and in another room chairs had been laid out for an audience in front of a small stage on which were placed a drum kit and piano.
One half of the group finished the tour of the State Apartments well before the second half and so waited outside, having a snack and sitting in the sunshine. Suddenly there was excitement as some of the girls noticed that the Union Jack was being lowered and replaced by the Royal Standard above the Round Tower. 'The Queen's here', was the cry.
A couple of the teachers noticed that from where they were standing they could see a black car driving into the Upper Ward of the castle. But, alas, no one could see the Queen as the car stopped below a portico by the private apartments to allow her to alight.
As soon as we had all regrouped we walked down through the Lower Ward to see St George's Chapel, where Prince Harry and Meghan Markle will be married, and while in the Choir in front of the altar saw the tombstone which marks the burial place of Henry VIII, his third wife Jane Seymour and Charles I. Other monarchs buried in the chapel include King George V and Queen Mary and King George VI and Queen Elizabeth.
After this we wandered down to a park by the River Thames where lunch was eaten and games were played. At the end of the visit we boarded the coach to return to St Augustine's Priory. Here, farewells were said as the coach continued on its journey to St Pancras where our friends from Ste Marie were going to catch the Eurostar to Paris.
This has been a great experience with feedback from pupils from both Ste Marie and St Augustine's Priory saying that three days was too short!
We are looking forward to the next part of the exchange when our pupils travel to Paris on Monday 14th May to visit Ste Marie de Neuilly.
Categories:
Priory Post
Senior
Whole School