Dr Barbara Marino
As part of our Careers' programme for Priory 6 and Upper V we host a range of speakers every year who come to share their experience and expertise in their chosen field. This week, Dr Barbara Marino, Director, ORSA Consultancy, visited St Augustine's Priory to speak about the many careers available in engineering.
ORSA is an independent compliance consultancy, specialising in all matters health, safety and environment.
They offer a broad range of compliance consultancy services in support of construction and development projects, film production and day-to-day business delivery. Their roots are in construction and the built environment, with experience of small and major projects all over the world.

Dr Marino leads the ORSA's Major Projects team focusing on business development, client relationships and project delivery. She is a technical expert who specialises in corporate governance and compliance, with expert witness skills.
Portia Laryea-Adu, Lower VI, reports on Dr Marino's talk: 'On 18th January Upper V, Lower VI and Upper VI had the honour of meeting Dr Barbara Marino from ORSA, a construction and engineering company. She educated us through her very informative presentation about the many different professions in the construction industry such as project management, design and work in finance. Dr Marino also encouraged us to look into pathways regarding engineering – there is a lack of females in the construction industry. Many were intrigued to hear about her PhD in construction at Loughborough and her contribution to the construction of the Sydney Opera House and the new Chelsea Stadium.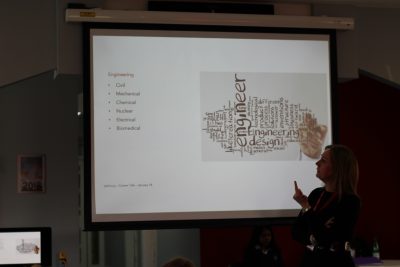 Dr Marino spoke about her line of work being heavily dominated by those who excelled in sciences such as biology and chemistry. However, she reassured us that it was also a place which needed those who were interested in other subjects, such as art. This gave encouragement to many of us who were unsure about whether we could still follow certain paths despite taking subjects that didn't necessarily coincide with those paths. We are grateful that Dr Marino came and gave us a very useful and fascinating presentation.'
Categories:
Senior
Sixth Form
Whole School