Is forensic science useful in criminal law?
Stretch and Challenge is one of the exciting programmes we run at St Augustine's Priory. Girls in Upper V (and this year with participation from Lower V) have the opportunity to investigate, explore and research a topic of their choosing. Broadening their minds and enabling them to extend and deepen their research skills in preparation for their EPQ (Extended Project Qualification) and A Levels the Stretch and Challenge programme sees presentations from History to Science to Biology to English Literature – the choice of subject is up to the girls!
After working on their chosen topic, girls then have the opportunity to present it to their peers and staff members. Here, Laura Jacques, Upper V Alpha, shares with us her research and presentation on 'Is forensic science useful in criminal law?'
Key dates in history of forensics:
275BC: ancient forensics
1302: first autopsy
1590: the microscope
1832: detecting poisons
1835: bullet matching
1888: mug shots and crime scene photographs
1892: fingerprints
1901: blood types
1910: crime labs
1984: DNA evidence
2000: computer reconstruction
275BC: ancient forensics: Archimedes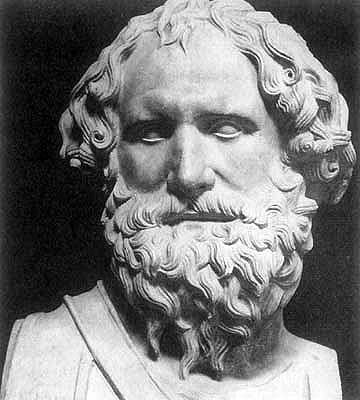 Archimedes is famous for his discovery of the law of displacement: the king had commissioned a blacksmith to make him a crown of gold and he gave the blacksmith enough gold to make it. However, upon receiving his crown, the king began hearing rumours that the blacksmith had cheated him and had mixed some of the gold with silver and kept the rest of the gold. Therefore, the king asked Archimedes, who was a well- known physicist of the time, to discover whether there was any truth to the rumours. One day when Archimedes was in the bath he found the water level rose when he got in – thus, he discovered the law of displacement. To solve the gold problem, he placed the same amount of gold the king gave to the goldsmith into a bucket of water to measure how much water it displaced, then he did the same with a lump of silver finding that the amount of water displaced was equal to the difference of volume between gold and silver. Therefore, if the crown was made of silver and gold it would displace more water than pure gold. Thus, when Archimedes placed the crown into the water and discovered that it displaced more water, he concluded that the king was, in fact, cheated by the blacksmith.
1832: detecting poisons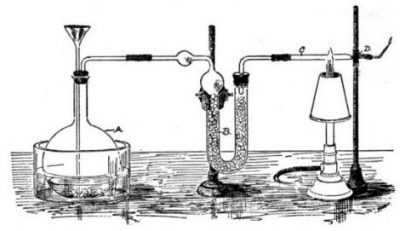 James Marsh was a British chemist, 1794 – 1846, and is famous for inventing the Marsh test for detecting arsenic. During the nineteenth century arsenic was a common poison as it was easy to obtain and sweet tasting thus, when it was mixed with stew or gruel, it was impossible for the recipient to detect.
In 1832, a man was accused of poisoning his grandfather with arsenic and James Marsh was commissioned by the prosecution to try to detect the possible arsenic. All Marsh could do was the standard test: passing hydrogen sulphide through the suspect fluid. Although the test did detect arsenic, by the time the evidence was presented to the jury it had deteriorated.
Therefore, Marsh set about to create his own test to detect arsenic. He combined a sample containing arsenic with sulphuric acid and arsenic-free zinc, resulting in arsine gas. The gas was ignited and decomposed to pure metallic arsenic which, when passed to a cold surface, would appear as a silvery black deposit. So sensitive was the test that it could detect as little as one-fiftieth of a milligram of arsenic.
1984: DNA evidence
Common uses include:
Parental testing: to establish if someone is the biological parent of a child,
Forensic testing: to help identify suspects or victims in a criminal investigation,
Gene therapy: to test parents or foetuses for genetic conditions or birth defects,
Genetic genealogy: to find out more about someone's ancestry.
DNA evidence replaced blood as the most useful mechanism for identifying people. When the use of DNA first came about, courts had to wait weeks for the results. However, over the development over a period of 15 years, they're now able to obtain the information within a few days. In 1996 a UK database of DNA was established, a powerful addition to fingerprint records. Since then, the predictive power of forensic science has been significantly improved using computer power.
A forensic scientist might be asked to compare DNA from skin cells found underneath the fingernails of an attack victim, with the DNA from a blood sample taken from a potential suspect. First of all, the DNA is isolated from the cells and millions of copies are made, using a method called 'polymerase chain reaction', or PCR. PCR uses a naturally occurring enzyme to copy a specific stretch of DNA over and over again. Having lots of DNA makes the genetic code easier to analyse. They're able to do this as all cells in the body contain exactly the same DNA – whether it's obtained from skin, hair follicles, blood or other bodily fluids.
Timothy Wilson Spencer
Spencer became the first murderer in the United States to be convicted on the basis of DNA evidence. He is also known as the "Southside Strangler". Spencer was an American serial killer who was accused of five rapes and murders. However, he was only charged with four. They were: Debbie Dudley Davis, Dr Susan Hellams, Diane Cho, aged 15 and Susan Tucker. He was also accused of the rape and murder of Carol Hamm.
Spencer grew up in one of the toughest black neighborhoods in Arlington, called Green Valley. He was known to police as a prolific home burglar. On 20th January 1988 Spencer was a arrested for rape and murder of Susan Tucker. Forensic testing was commenced on various biological and other samples found at the crime scenes. Spencer was convicted and sentenced to death, following the presentation of DNA evidence linking him to the Tucker crime scene – this was the first case in Virginia in which DNA was successfully used to prove an offender's identity
Following his conviction for the Tucker murder he was put on trial for Debbie Dudley Davis, Susan Hellams and Diane Cho's murders and found guilty and sentenced to death by electric chair. From these successful convictions the police compared samples collected with other crime scenes, including both open and closed cases, resulting in finding a connection to the murder of Carol Hamm in 1984 for which a man named David Vasquez had been previously convicted.
On 4th January 1989 Vasquez was granted an unconditional pardon for her murder, having served five years of a thirty-five year prison sentence and became the first American to be exonerated on the basis of contradictory DNA evidence.
Spencer was never convicted of Hamm's murder owing to the evidence which linked him to the crime scene not being conclusive. He was executed in the electric chair on 27th April 1994
How an innocent man's DNA was found at a murder scene
A San Jose man was accused of murdering a Monte Sereno millionaire owing to forensic evidence which linked him to the scene of crime. However, the prosecutors later acknowledged that he had an airtight alibi – he was drunk and unconscious at a hospital when the victim was killed in his mansion miles away. Although there was still the question as to how the accused, Lukis Anderson's, DNA was found under the victim, Ravi Kumra's, fingernails. Santa Clara County prosecutors answered that question, saying the same two paramedics who had treated Anderson for intoxication at a downtown San Jose liquor store had responded to Kumra's home just hours later. Anderson spent more than five months in jail after he was connected to the murder of Kumra, a cell phone entrepreneur and former Saratoga winery owner, during a home-invasion robbery. Two alleged Oakland gang members and a prostitute – people Anderson had never met – remain charged in the case.
Picture of Ravi Kumra, the victim.
Is forensic science useful in criminal law?
To Conclude…
Of all lines of forensic evidence, DNA analysis was considered to be the most objective. Resting on complex chemical analysis, it seems stringently scientific – a gold-standard for how forensic science should be done. Yet perhaps juries should not be too quick to trust the DNA analyses they see in court, however simple it might be to agree with the scientist in a white coat. When it comes to deduction and proof, there is still much we can learn from Arthur Conan Doyle's hero, Sherlock Holmes, and, as he once said, "Eliminate all other factors, and the one which remains must be the truth."
The Guildford Four and the Maguire Seven
The Guilford pub bombings occurred on 5th October 1974 when the IRA detonated two six-pound gelignite bombs at two pubs in Guildford.
The Maguire Seven were accused of making bombs for the IRA on 3rd December 1974 after the police raided the West Kilburn house of Anne Maguire.
The Guildford Four and the Maguire Seven were the collective names of two groups whose convictions in English courts in 1975 and 1976 for the Guildford pub bombings of 5th October 1974 were eventually quashed after long campaigns for justice. The Guildford Four were wrongly convicted of bombings carried out by the IRA and the Maguire Seven were wrongly convicted of handling explosives found during the investigation into the bombings. Both groups' convictions were eventually declared "unsafe and unsatisfactory" and reversed in 1989 and 1991 respectively after they had served up to 15–16 years in prison.
No one else was charged with the bombings, or supplying the material; three police officers were charged with conspiracy to pervert the course of justice and found not guilty.
Both groups were convicted of acts of terror, this conviction was passed in court owing to residue found on their hands which, at the time, the police believed to have come from making and handling bombs. However, we now know that the residue was from a pack of cards.
Defendant
Age at
time of trial
Convicted of
Paul Michael Hill
21

• Guildford pub bombings

• Woolwich bombing

• (separately) the murder of British soldier Brian Shaw,

confessed to during the same questioning

Gerard 'Gerry' Conlon
21
• Guildford bombings
Patrick "Paddy" Armstrong
25

• Guildford bombings

• Woolwich bombing

Carole Richardson
17
• Guildford bombings
The bombings occurred during the height of the Troubles in Northern Ireland. The Metropolitan Police were under enormous pressure to apprehend the IRA bombers responsible for the attacks in England. In December 1974 the police arrested three men and a woman, later known as the Guildford Four. They were Gerry Conlon, Paul Hill, Patrick Armstrong and Carole Richardson. The bomb in the Horse and Groom pub detonated at 8.00pm. It killed Paul Craig (a 22-year-old plasterer), two members of the Scots Guards and two members of the Women's Royal Army Corps. The Seven Stars pub was evacuated after the first blast and thus there were no serious injuries when the second bomb exploded at 9.00pm. The Metropolitan Police were so desperate and were under so much pressure to find the people who carried out the bombings that they wrongly arrested the 'Guildford Four'. It was carried in a court as they found residue on their hands, however, if they had researched and heard their testimonies the residue was actually from playing cards.
The Maguire Seven
They were tried and convicted on 4 March 1976 and received the following sentences:
Defendant
Relationship
Age at
time of trial
Sentence
Anne Maguire
40
14 years
Patrick Maguire
Anne's husband
42
14 years
Patrick Maguire
Son of Anne and Patrick
14
4 years
Vincent Maguire
Son of Anne and Patrick
17
5 years
Sean Smyth
Brother of Anne Maguire
37
12 years
Patrick O'Neill
Family friend
35
12 years
Patrick "Giuseppe" Conlon
Brother-in-law of Anne
52
12 years
This became known as Auntie Annie's bomb house as, after Giuseppe's son was arrested in the Guildford 4, the police clamped down on terrorist acts and raided the Maguire house and they found residue on their hands and around the house, also from playing cards. Between them, the Maguire 7 spent 73 years in jail despite the fact they were all innocent.
Categories:
Senior
Sixth Form
Whole School