The next step towards the future…
We reported on our recent Sixth Form Open Evening in a previous Priory Post (16th October). Held on Thursday 15th October, it came at the end of a day when our Upper V students attended Sixth Form classes to enjoy a taste of Sixth Form Life at St Augustine's Priory.
During the Open Evening that followed, some of our Sixth Formers addressed our assembled guests on life in the Sixth Form at St Augustine's Priory, both academic and extra-curricular.
No-one is a number at St Augustine's Priory; we are interested in the whole human being and the relationship between staff and pupils demonstrates that. We believe not only in caring for our pupils, but also in stretching and challenging them and the Sixth Form speakers at our recent Sixth Form Open Evening testified to that.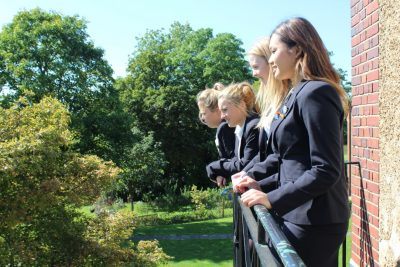 Ridhi Thukral, Upper VI, began by speaking about academic life in the Sixth Form:
'There is a significant difference between GCSE and A Levels; without meaning to sound patronising, since I'm sure a lot of you are already fully engaged with your subjects, A Levels require a lot of extra commitment. Academically though, the Sixth Form is transformative. You have to think independently and critically in all of your subjects, and simply cannot rely on teachers spoon-feeding you information. Furthermore, extra reading and research enhances what you gain from the curriculum. You will be studying subjects that you genuinely love and are already good at; our teachers are specialists and really passionate about their subjects and this provides intellectual stimulation.
I highly doubt you would find a school which uniquely combines small class sizes, personalised attention and independent study as brilliantly as St Augustine's Priory does. These two years in the Sixth Form are crucial in that they are a transition period between school and university. I can genuinely say I am so glad to have stayed here, because the teachers are so generous with their time and are caring and understanding of you as a person, as opposed to being just another face in another class. St Augustine's Priory provides pastoral comfort with academic challenge – it is truly an unparalleled environment to be in.'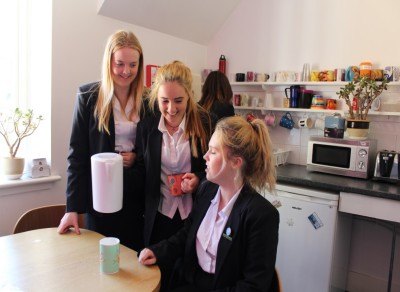 Alexia Kirov, also Upper VI, followed this by saying:
'One of the most unique things about the Sixth Form here at St Augustine's Priory is its small size. This, I can tell you from my own experience, is an infinitely beneficial thing, as it means that the Sixth Form is both a close knit community and a challenging and exciting environment to work in. It also means the Sixth Form allows you to develop a close relationship with all your peers and teachers. Not only does this allow you to gain extra support whenever it is needed, but it also gives you the opportunity to take your subject beyond the textbook, as the teachers know you very well. They can therefore always tailor your learning towards your own specific interests.
Owing to this close focus on each student's individual needs, I was able to take five AS subjects last year: English Literature, History, Creative Writing, Government and Politics and Latin. In the enriching environment this school provides, I was able to expand my knowledge and interest in these subjects beyond the classroom in a wide variety of ways; from organising, and going on to win the school's mock general election, to quizzing the former Minister of State for Care and Support, Norman Lamb, on the BBC's Free Speech programme.
In addition, one of my poems was published in the Morning Star and my article on the merits of A Level Creative Writing is being used at the forefront of the English and Media Centre magazine's campaign against the government's A Level reforms. This week, I received an email from the editor of the magazine, informing me that the Association of English Lecturers in Higher Education has invited me to speak at their annual conference, in order to give a student's perspective on what it is like to study Creative Writing at A Level. Whilst this is a somewhat daunting challenge, I know that the skills I have honed during my time as school orator and my participation in public speaking and debating clubs will ensure that I am very well prepared.
The inspiring teaching at St Augustine's Priory not only prepares you to take on the exams in May and June, but also the world.
Yesterday, some of my friends and I sent off our Oxbridge applications which is, of course, incredibly exciting. However, with just about half of my time here in the Sixth Form left, I am equally excited to think about what else I can achieve in my time remaining at St Augustine's.'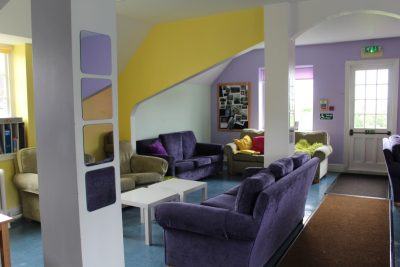 Finally, Lida Ghanadian, Upper VI spoke about the extra-curricular activities available at St Augustine's Priory:
'Although the girls have told you about the academic side of life at St Augustine's Priory, there are also so many things the school offers for the older girls as extra-curricular where not only can you gain invaluable life skills but also great topics to write about on your personal statement for university applications. It's never too early to start thinking about these things!
The school offers many extras including Young Enterprise, a national year-long competition where you create a company and market and sell a product. This provides opportunities for great leadership and teamwork skills and is a wonderful experience. The team last year went on to win the regional finals and provided the girls with some extremely valuable business experience. Sixth Formers also take part in the annual Model United Nations at the LSE which gives a chance for those interested in politics to take it further than the classroom. This is open to all Sixth Formers, not only those who take Government and Politics A Level. At the end of the AS examinations the Lower VI go on a Leadership course run by the organisation 'Thrills and Skills for Life' who train all the BBC journalists who go to war-torn areas such as Iraq and Afghanistan. For personal experience this is really fun and teaches vital outdoor and life skills. We also offer the Duke of Edinburgh's award up to and including the Gold Award. I am sure many of you have already achieved the Bronze Award and some of you are working towards the Silver Award. I was able to undertake the residential part of my Gold Award with St Augustine's Priory which, although very challenging, I thoroughly enjoyed.
Here, there is also the opportunity for the Sixth Form to become involved with The Priory Players, the Sixth Form-run drama company. The company provides the chance not only to act and to work backstage, but to become involved in the running of the business, either on the marketing or management side. Upper VI students are also in charge of organising most of their in-house events such as the Summer Ball. While this is overseen by the teaching staff, we have the opportunity to have responsibility for these events, learning practical skills which will be of use in later life.
A Sixth Form travel scholarship is also offered by St Augustine's Priory where a student, or group of students, can apply for a £2,000 grant for a planned, educational trip abroad. There is competition for this popular award and as part of their applications students make a presentation about the proposed trip to a panel of teaching staff.
We are also encouraged to gain work experience and the school sets up many careers evenings where we are able to make contacts to help us. For example, I was able to work at Barclays Bank for a week in the summer as a result of networking at one of our careers' evening.
There is also a new stewardship programme which contributes to the life of the school and builds community spirit. This is run by the Sixth Form and includes inter-house activities such as feeding our chickens, or taking care of our Prayer Garden.'
Thank you to all those Sixth Formers who contributed to our Sixth Form Taster Day and to our Sixth Form Open Evening and for your enthusiasm for life in the Sixth Form at St Augustine's Priory.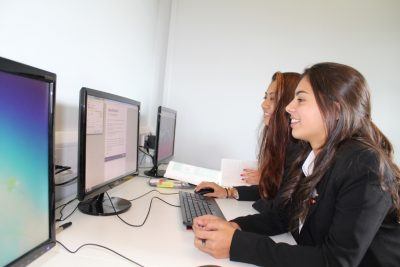 Categories:
Senior
Sixth Form