One Hundred Years of Faith
Cardinal Vincent Nichols' visit highlight in yearlong celebrations
On 21st September 1915 a community of Augustinian Canonesses Regular of the Lateran took possession of this school on Hillcrest Road. Originally located in Paris where their school had been a centre of girls' education since 1634, this community of nuns left for England in 1911 and bought this site in Hillcrest Road in Ealing on which to build their school and convent, an enterprise which was completed in 1915.
One hundred years later we are celebrating the centenary of St Augustine's Priory on this site, the anniversary of our One Hundred Years of Faith, and are marking the event in several ways.
What promises to be the highlight of our year is taking place on Tuesday 30th June, the visit of H.E. Cardinal Vincent Nichols, Archbishop of Westminster, who will celebrate Mass here to mark our centenary on Hillcrest Road. Pupils, parents, staff, past pupils and guests will be present at this wonderful event, something to which we are all looking forward. After the Mass we will hold our annual Summer Arts evening, a celebration of Art, Poetry, Music and Drama which will take place between 5.00 p.m. and 8.00 p.m.
We are hosting a series of speakers throughout the year to mark the centenary. Sr Mary Jo Martin, the Chief Inspector of Schools for the Diocese of Westminster, visited us and spoke on 'The Distinctive Qualities of a Catholic School' a stimulating talk which gave us much to reflect upon. Fr Patrick Shanahan, M.Afr., co-founder of the charity StreetInvest which works with street children in Africa, spoke to both Junior and Senior girls about 'Working with Street Children – an African perspective'. This was an inspirational event and valued by both pupils and staff.
Our 'A Stitch in Time' project of upholstering the wooden kneelers in the Chapel is going well. It is involving all members of our community, pupils, parents and staff, in the design and embroidery of the kneelers and we are all looking forward to our workshop with the Royal School of Needlework.
In addition, we are very fortunate that the Parents' Committee is supporting the Mosaic competition for the Prayer Garden. This will enhance the garden as a place of prayer and reflection. As a school in London we are extremely fortunate to have a garden dedicated to reflection, prayer and natural beauty. The artist and past pupil of St Augustine's Priory, Sophie D'Souza, has offered to help with the design and will work with the girls to create a commemorative piece of work for the Prayer Garden. Mrs D'Souza specialises in stained glass and mosaic art and her work includes stained glass windows at the churches of Ss Peter and Paul in Northfields, St John Fisher in Perivale, the Sacred Heart in Ruislip, St Joseph's Church in Hanwell and St Vincent's School in Acton.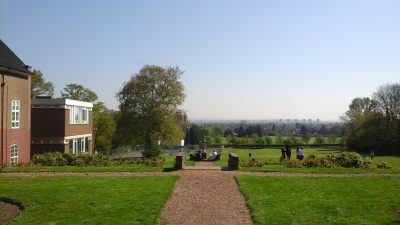 This year will definitely be one to remember, a year to celebrate all that we are and all we encompass. A centre of education and of faith. A place where generations of pupils, staff and parents have gathered in community.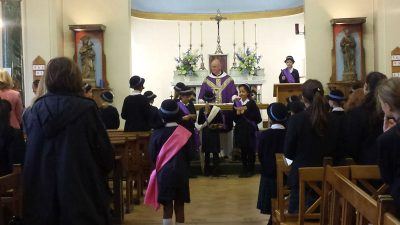 Categories:
Faith Life
News Flash
Whole School