'The Comedy of Errors'
Our 2015 Senior School Production
Our production of 'The Comedy of Errors' by William Shakespeare was a great show, a highlight of the year. From the crew to the cast the hard work and talent of our pupils was apparent in a show that combined smooth-running, great design and excellent performances.
Mrs Murphy, Head of Drama, had drawn together a team which had worked together over several months to put on this show which ran from 26th – 28th February in the Questors Theatre main playhouse. The play is one of Shakespeare's most farcical comedies revolving around two sets of identical twins, accidentally separated at birth and the mishaps and adventures that befall them.
It would be impossible to single out any one area for commendation – a sentiment obviously shared by the audiences, as on the first and last nights the end of the show was greeted by standing ovations!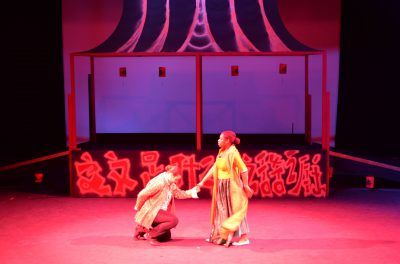 Set in Asia the design of the stage set was effective and deceptively simple. Light and sound were used to create an atmosphere which intertwined beautifully with the setting and the cast looked the part in great costumes with hair and make-up stylishly applied and worn. All these factors were woven together (with hard work backstage by a skilful stage management) to form a seamlessly integrated production.
The dancers performed the well-thought out choreography with grace and style and the actors gave excellent performances.
Whether in the main roles or as secondary characters every actor's well thought-out character took the stage with confidence and believability. The comedy acting was sublime with the actors combining adept farcical physicality with a truth and creativity crafted with thought and precision.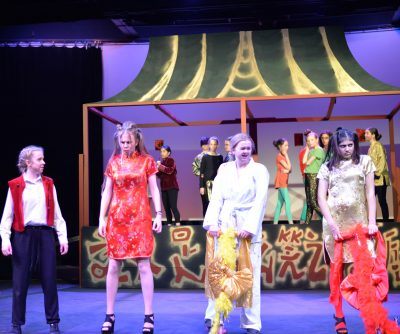 This was definitely a show 'not to be missed'. Congratulations to Mrs Murphy and all her collaborators for a wonderful evening's entertainment.
The photographs of 'The Comedy of Errors' accompanying this article give a definite flavour of the show and were taken by Kiranjeet Sandhu, Upper VI.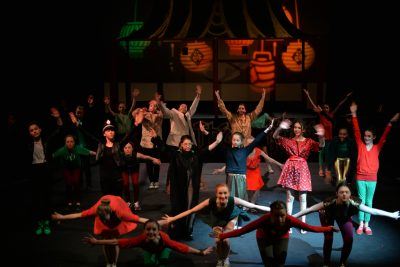 Categories:
Senior