Coffee and Cakes
World Cancer Day 2015
On Wednesday 4th February we invited parents to join us for Coffee and Cakes in the Pupils' Refectory to mark World Cancer Day 2015.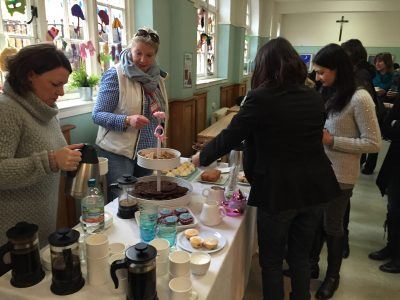 This event was organised by one of our parents to raise awareness of, and support for, World Cancer Day.
World Cancer Day's website states 'World Cancer Day 2015 will take a positive and proactive approach to the fight against cancer, highlighting that solutions do exist across the continuum of cancer, and that they are within our reach'.

Our parents and staff strongly supported this event. Surrounded by delicious cakes and good company we are very happy to report that £150.65 was raised, which is being donated to the fight against cancer on behalf of the parents of this school.
Thank you to Mrs Lozinski for this initiative and organisation and also to everyone who supported this event through baking, attending and eating! Thank you also to Mrs Lozinski and Mrs Rothschild for the photographs
Categories:
Whole School